Muneeb Ali – "The Creator of the Internet Just Signed Up for Blockstack" ;
The Upside of Bitcoin's Upside (It's Not What You Think) ;
Zooko Wilcox Envisions 'Ambitious' Changes for Zcash Cryptocurrency
France Passes Bill to Allow Insurance Providers to Invest in Crypto and Tokens ;
IMF and World Bank Launch Quasi-Cryptocurrency in Exploration of Blockchain Tech ;
? Daily Crypto Calendar, April, 14th?
STEEM Trading Update
Welcome to the Daily Crypto News: A complete Press Review, Coin Calendar and Trading Analysis. Enjoy!
The rally last week in cryptocurrency prices sent tremors of excitement through the mainstream press – is bitcoin "doing its thing" again? Could we be on the verge of a breakout?

These reports attract clicks and eyeballs, so I understand why they are run – but their breathless fascination with price volatility and potential profits misses the bigger impact.

While we can generally agree that investment gains are good, the broader benefit is this: cryptocurrency price increases throw into starker relief the uniqueness of the asset class.

(To avoid over-complicating the discussion, in this article I'll focus on bitcoin – but the same or similar arguments can also be applied to other cryptocurrencies, depending on their characteristics.)

The drop may now have thrown a spanner into a bullish market setup that had looked likely to propel prices to highs not seen since late last year. Had bitcoin's triangle breakout succeeded, a measured move to $5,800 may have been on the cards. However, bitcoin fell $300 short of that target as buyer volume fell short on the day
"We've been working on zcash for about five years and I expect it will take five more before it reaches the level of flourishing that has been on our minds all along."


That's Zooko Wilcox, CEO of Electric Coin Company (ECC) – the firm behind the privacy-focused cryptocurrency zcash. He made the comments about the long-term trajectory of zcash during a conversation on the last day of the RadicalxChange conference, which took place February in Detroit.


Suitcase and coffee in hand at the time of interview, Zooko was just about to jet off on a plane to Tokyo to embark on an extended "zcash promotional world tour" in East Asia.

French insurance markets can now invest in cryptocurrencies, following the passage of a new law, foreign exchange news agency FXStreet reports April 11.


On April 11, the National Assembly of France adopted a bill that is designed to stimulate local business development, including redirecting savings from individuals to businesses, according to local news agency Les Echos. According to Reuters, the Assemblee Nationale voted 147 in favor and 50 against.


Known as "Plan d'action pour la croissance et la transformation des entreprises," (Pacte) the act reportedly allows insurance providers in France to invest in cryptocurrencies such as Bitcoin (BTC) with no limit on the amount of investment.
The International Monetary Fund (IMF) and the World Bank have jointly launched a private blockchain and a so-dubbed quasi-cryptocurrency, the Financial Times (FT) reports on April 12.


According to the newspaper, the asset called "Learning Coin" will be accessible only within the IMF and World Bank. The coin has no money value and thus is not a real cryptocurrency, the FT underlines.


As the FT has learned, "Learning Coin" was launched in order to better understand the technologies that underlie crypto assets. Its app will serve as a hub where blogs, research, videos and presentations are stored.
? Daily Crypto Calendar, April, 14th?
"The Stratis 2019 roadmap will be released next week. Stay tuned to find out all the exciting things we are working on."
"Vault KYC coming next week."
Luxcore segment with InnovateTV will be airing on 4/13 @ 5pmET on FOX Business Channel.
"Next week we will have more news about dates ans how it will work to register for the soft launch."
SmartCash meetup n Kaliningrad from 17:00 – 19:00.
STEEM Trading Update by my friend @cryptopassion
Here is the chart of yesterday :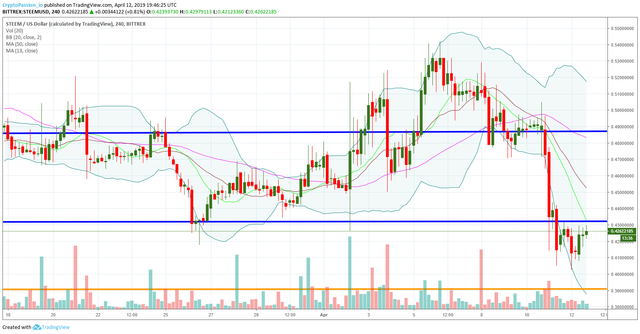 Here is the current chart :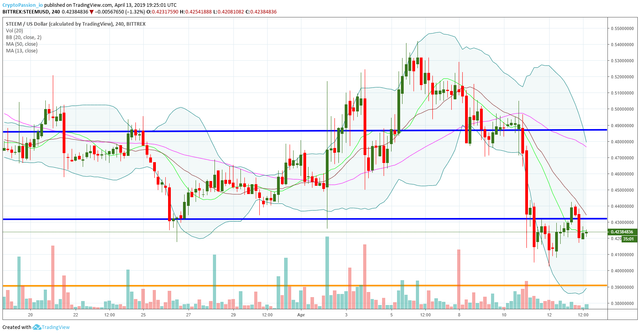 So today, we broken shortly the resistance line at 0,43$ but we failed to stay upper and we dropped agin. We have to be carefull now because we have a high rish of pull back and a continuation of the previous drop… The coming hours will confirm or not that scenario. To invalidate the pull back, we nned to break again that resistance line and take some distance from it.
Last Updates
Join this new Free To Play on the STEEM Platform !