Welcome to the Daily Crypto News: A complete Press Review, Coin Calendar and Trading Analysis. Enjoy!
Depending on what country you live in, your cryptocurrency will be subject to different tax rules. The questions below address implications within the United States, but similar issues arise around the world. As always, check with a local tax professional to assess your own particular tax situation.


1. Do I need to report my cryptocurrency trades to the IRS?

You need to report your cryptocurrency activity if you incurred a taxable event during the year. A taxable event is a specific scenario that triggers a tax liability. The below are a list of the taxable events as specified by the IRS 2014 guidance:

Trading cryptocurrency to fiat currency like the U.S. dollar is a taxable event.
Trading cryptocurrency to cryptocurrency is a taxable event (you have to calculate the fair market value in USD at the time of the trade).

Using cryptocurrency for goods and services is a taxable event (again, you have to calculate the fair market value in USD at the time of the trade; you may also end up owing sales tax).
Bitcoin is valuable because it exists
A point that's lost on critics like Novak is that the longer bitcoin simply survives – in the face of the $90 billion valuation that stands as a de facto bounty for hackers to try to take it down, compromise its security or corrupt it – the more its overall value is confirmed.

Bitcoin is progressively proving itself to be an unstoppable, digital system of global exchange, one that functions outside of the traditional national government-mandated system of currency and banking. That status is what gives bitcoin its value.

Of course, the global impact of the bitcoin value exchange system, and therefore its worth to humanity, will be significantly enhanced if adoption advances to a much wider scale and it is used frequently in the world's transactions. And, yes, a great deal of development work is still needed if it is to ever reach that point.
Is Coinbase going to solve the thorny challenges of proof-of-stake (PoS) blockchain governance or centralize those systems even further?


That's the question experts in the space are pondering with the recent announcement that Coinbase Custody will offer staking support for Maker, Tezos and Cosmos. The move means institutional investors will be able to vote on blockchain governance matters directly through their Coinbase accounts.
Cryptocurrency derivatives provider LedgerX plans to become the first U.S. firm to offer physically settled bitcoin futures contracts.


The company announced Monday that it has filed for a designated contract market (DCM) license, which would allow LedgerX to offer physically-settled bitcoin futures products to its customers. Unlike the cash-settled bitcoin futures offered by CME Group (and previously, Cboe), customers would receive the actual bitcoin underlying a contract after it expires, rather than the U.S. dollar equivalent.


And perhaps more notably, LedgerX can target retail investors with its new offering, said Juthica Chou, who serves as both chief risk and operating officer at LedgerX.
France's Minister of Economy and Finance, Bruno Le Maire, has stated that blockchain technology is a priority for his country's government. Le Maire made his remarks during an interview with French economics and business magazine Capital on April 15, ahead of the Paris Blockchain Week Summit from April 16-17.


As proof of France's commitment to the nascent sector, Le Maire revealed that the state plans to invest 4.5 billion euros ($5 million) in breakthrough innovations — including blockchain — in a bid to fight Chinese and American technological dominance.


Aside from funding, he underscored the blockchain regulatory progress heralded by the PACTE Act, which was passed by the French National Assembly earlier this week.
ConsenSys is seeking a funding boost.


Ethereum co-founder Joe Lubin's Brooklyn-based venture studio is looking to raise $200 million from external investors, The Information reported Monday, at a valuation of $1 billion.


The Information reports that ConsenSys is pitching Chinese investors with materials claiming the company aims to earn $50 million in revenue this year, primarily from contracts with enterprise and government clients. Last December, the Brazilian National Social Development Bank confirmed to CoinDesk it was in talks with ConsenSys.


ConsenSys was previously supported by Lubin's personal fortune and employed up to 1,200 people in 2018. When the price of ethereum plummeted after the 2017 token boom fizzled, ConsenSys laid off 13 percent of its staff. Following a late-2018 re-organization dubbed "ConsenSys 2.0," it became clear that partnerships with traditional, external investors were a priority.
? Daily Crypto Calendar, April, 16th?
"Second (stage 2 at block 1,000,000) reduction of POW miner's reward to 150 coins per block," in Q2 2019.
"We are ready to @Coinbase NJ. Our beta test starts in 3 weeks."
"Tael (WABI) will reveal its biggest partnership to date during the Binance AMA."
"DigiFinex is going to list Zcoin (XZC) and open up deposit on 15th Apr. Withdrawal and trade service will be open on 16th."
"… At 10:00 AM ET (2:00 PM GMT/UTC) Partners and Platinum Partners will have an exclusive opportunity to buy additional EFIN coins."
STEEM Trading Update by my friend @cryptopassion
Here is the chart of yesterday :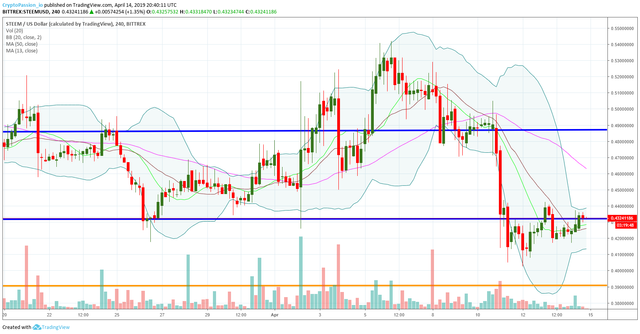 Here is the current chart :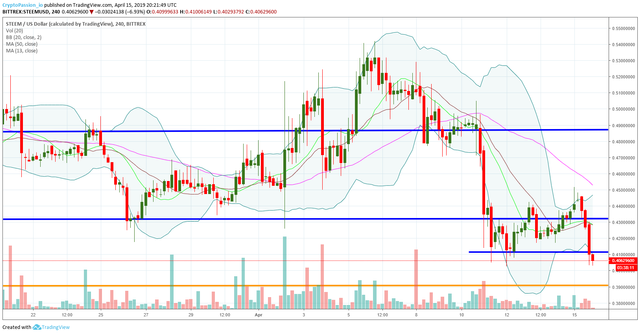 We just broke the support line around 0,43$ and it is really not a good news as we broke also the previous low. If that break of the previous low is confirmed with the current candle, we have high propabilities to go test the next support line around 0.39$. Steem has really difficulties to take advantage of the UP phases but is very good on the DOWN phases…
Last Updates
Join this new Free To Play on the STEEM Platform !
You don't want to miss a Crypto news?