Bitcoin at Most Overbought Level Since Record Bull Run: Bloomberg Analyst;
Even at $30, Bitcoin Was Still More Exciting Than Poker – Josh Rossi;
Returns on Crypto Assets: The Hidden Message;
G20 to Establish Crypto AML and Counter-Terrorism Financing Regulations in June: Report;
Online Bank Mistertango Offers Crypto Companies Multiple Accounts and Ibans;
? Daily Crypto Calendar, April, 7th?
STEEM Trading Update
Welcome to the Daily Crypto News: A complete Press Review, Coin Calendar and Trading Analysis. Enjoy!
Bitcoin (BTC) is at its most overbought level since its record highs in December 2017, Bloomberg Intelligence analyst Mike McGlone claimed in an article published on April 5.

Per the report, Bitcoin's GTI Global Strength Indicator shows that the coin has not been this overbought since its price neared its record peak of $20,000. Bloomberg also claims that similar patterns in the past have heralded multi-week long downturns.

Chairman J. Christopher Giancarlo of the U.S. Commodity Futures Trading Commission joins host Nolan Bauerle for an exit interview covering his time at the CFTC, the future of blockchain regulation, and the origins of the nickname "CryptoDad."


Josh Rossi describes festive nights of playing poker with a who's who of the early bitcoin scene

https://jwp.io/s/aCKEE2bV
For those of us in the northern hemisphere, April is traditionally the month when the furious subterranean growth during the winter months finally breaks through in the form of the first buds of spring.


The crypto world does not move to such a predictable rhythm, however, and the building during the bear market has yet to show substantive signs of flowering. Yet, unruly shoots are starting to emerge in unexpected forms.


The past couple of weeks have seen a flurry of headlines proclaiming a relatively new type of crypto asset return: income, not from trading or realizing profits, but from just holding the cryptocurrencies and tokens.

The Bitfury Group and blockchain-powered medical data marketplace Longenesis have jointly launched production of a blockchain-based consent management system for the healthcare industry. The development was announced in a press release shared with Cointelegraph on April 4.

Per the release, the new product addresses issues with the management of user consent for ongoing and upcoming research endeavors, compliance with the General Data Protection Regulation (GDPR) and Health Insurance Portability and Accountability Act (HIPAA), as well as streamlining data collection for medical research.
Mistertango is a platform that provides crypto users and businesses with access to traditional finances. Its services are open for exchanges, investors and others involved in the industry. The crypto-friendly payment processor offers both personal and business accounts that come with the option to create multiple Ibans.
? Daily Crypto Calendar, April, 7th?
ELD releases whitepaper v2 during weekend.
Weekly rewards for Cointorox Community Members holding over 800 OROX. Token Rewards distributed from leftover bounty tokens.
"In just a month we are launching the secret weapon to enable ppl to play Dapps without a technical barrier on #IOST."
"Public release of all the platform designs/screens."
"#EthereumClassic community-wide conference call surrounding the next network upgrade ECIP1054 named Atlantis."
STEEM Trading Update by my friend @cryptopassion
Here is the chart of yesterday :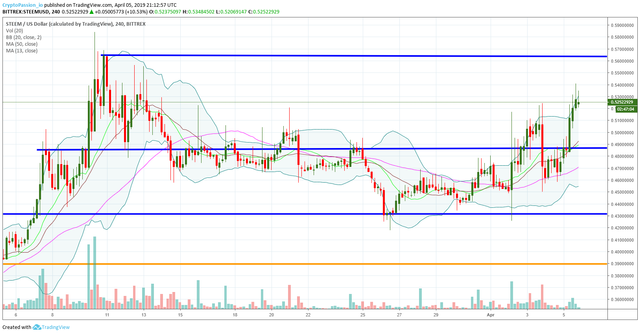 Here is the current chart :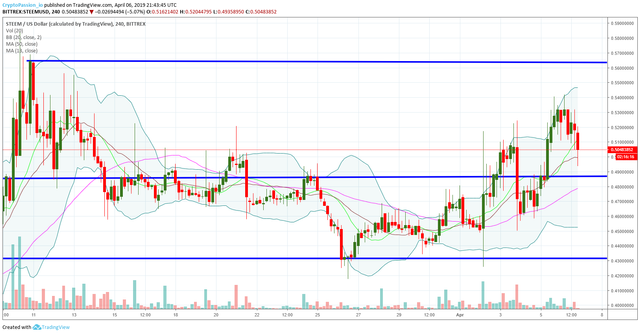 So after the nice Up of yesterday, we are having a correction helped by a current little drop on the BTC also. What is important now is to keep an eye on the current level because we are exactly on the previous TOP that we broke yesterday and if we break it again with a Drop, the UP Break Out of yesterday will be invalidated
Last Updates
Join this new Free To Play on the STEEM Platform !
---