Brazil Establishes Committee for Cryptocurrency Regulation ;
SEC's Hinman Says Some ICOs May Be Eligible for 'No-Action' Relief;
Bitcoin Shines Amid Wall Street Losses ;
? Daily Crypto Calendar, June, 1st?
STEEM Trading Update
Welcome to the Daily Crypto News: A complete Press Review, Coin Calendar and Trading Analysis. Enjoy!
Full link: https://steemit.com/steemit/@vlemon/steemit-statistics-and-big-data-end-of-april-2019-update
We reached 12.43 mn visits in April 2019!
There is an important difference between total visitors to a site and unique ones. In this case the 12.43mn include the multiple times a person visited the website.
I] Traffic

Daily Steemit Traffic

A lot more datas on my original post. Enjoy ! https://steemit.com/steemit/@vlemon/steemit-statistics-and-big-data-end-of-april-2019-update
Thousands of cheese-shaped cartoon wizards will soon duel online for a grand prize of ether tokens.


Dapper Labs, the company behind the 2017 CryptoKitties craze, unveiled its newest ethereum-based gaming experience – "Cheeze Wizards" – last Friday. The game has already attracted 973 players who purchased 4,470 fighters, according to Dapper Labs co-founder Bryce Bladon.
Most of the ether spent on these digital wizards goes toward prizes, with 607 ETH collected so far for a combined total of roughly $190,977 at the current market price.

"A lot of blockchain games are trying to appeal to the mass market by sacrificing the decentralization and using side chains or hosted solutions. We want to go to the other side of the spectrum and create a game with the community for an experiment with user behavior in crypto networks."
The President of the Chamber of Deputies of Brazil has ordered to establish a commission to consider cryptocurrency regulation in the country, Cointelegraph Brasil reported on May 31.


The Chamber of Deputies of Brazil is a federal legislative body and the lower house of the National Congress of Brazil, and consists of representatives of the states elected every four years. The Chamber discusses and approves proposals for economic and social areas such as education, health, transport, and housing.


On May 30, the President of the Chamber of Deputies, Deputy Rodrigo Maia has requested the creation of a special commission to deliver an opinion on bill 2303/2015, which aims to regulate bitcoin (BTC) and other digital currencies in Brazil.
Startups that conducted initial coin offerings (ICO) years ago may be eligible for relief from potential enforcement actions by the U.S. Securities and Exchange Commission, an agency official said Friday.


For the last year and a half, the regulator has been filing cases against projects that raised money by selling tokens without registering them as securities. But in his opening remarks at the agency's FinTech Forum in Washington, D.C., SEC Director of Corporation Finance William Hinman said that cryptocurrencies are capable of shifting from being a potential security to very clearly not being one.


"Digital assets may evolve into an instrument that no longer needs to be regulated as such," he said.
Bitcoin decoupled from traditional markets in May, rising more than $3,000.


The cryptocurrency, currently at $8,300 on Bitstamp, is set to end higher for the fourth straight month with 60 percent gains. That is the longest monthly winning streak and the biggest monthly gain since August 2017.


Notably, the leading cryptocurrency by market value has put on a good show despite the losses on Wall Street. The S&P 500 index – a benchmark for global equity markets – is on track to end May with a 6 percent loss.
? Daily Crypto Calendar, June, 1st?
Block.One, company that owns the EOS code and released it to the community, also made a pre-announcement of a Washington event this June 1st…
"#Skyfleet we have some exciting news and updated planned over the next few months."
"Our new Token Creation Platform is scheduled for launch on June 1st, 2019."
We have a scheduled launch of Lifechain mainnet planned for approximately 6 weeks from today (April 19, 2019).
STEEM Trading Update by my friend @cryptopassion
Here is the chart of yesterday :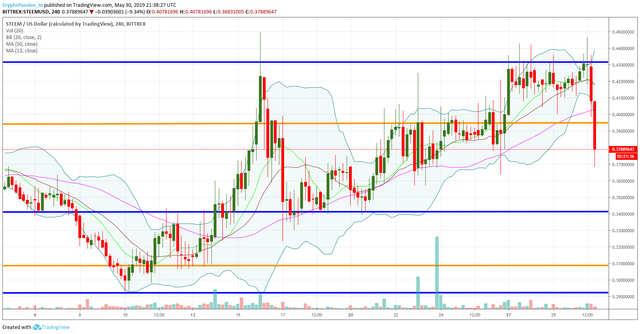 Here is the current chart :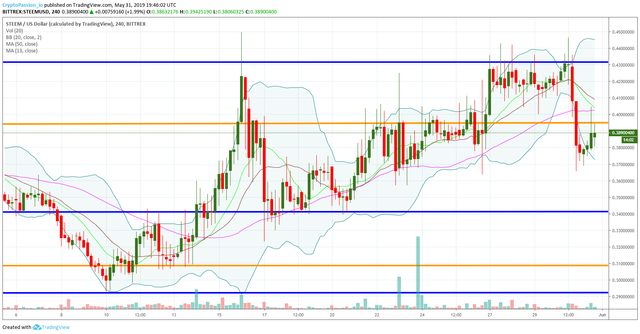 The STEEM is doinga lso a reversal, following closely the pattern of the BTC. We are currently testing the resistance line at 0.39$ that we broke down during the correction of yesterday.Let see if we will be able to break it and go back inside the trading canal between 0.39$ and 0.43$ where we were stucked since some days now.
Join this new Free To Play on the STEEM Platform !
You don't want to miss a Crypto news?