Welcome to the Daily Crypto News: A complete Press Review, Coin Calendar and Trading Analysis. Enjoy!
Arthur Hayes, co-founder and CEO of cryptocurrency trading platform BitMEX, has predicted that Bitcoin (BTC) will get back to the $10,000 price point this year. Hayes shared his predictions in a newsletter published on March 22.


According to Hayes, the market recovery will begin in early fourth quarter of 2019. Hayes said:


"The 2019 chop will be intense, but the markets will claw back to $10,000. That is a very significant psychological barrier. […] $20,000 is the ultimate recovery. However, it took 11 months from $1,000 to $10,000, but less than one month from $10,000 to $20,000 back to $10,000."
Bitcoin failed to capitalize on a bull breakout above $4,040 yesterday, but the short-term outlook remains bullish as the higher-lows pattern is still intact.


A convincing break above the three-day chart resistance of $4,040 still looks likely and could be followed by a rally toward the recent high of $4,190.


The immediate outlook would turn bearish if prices find acceptance below $3,920 (previous day's low). A bearish close, if confirmed, could yield a drop to $3,700–$3,658 (Feb. 27 low).
Mt. Gox Legal, a group of around 1,000 creditors of collapsed crypto exchange Mt. Gox, has prepared a draft proposal representing its consensus on how the exchange's remaining assets should be paid out, according to a document obtained by CoinDesk.


Mt. Gox trustee, Nobuaki Kobayashi, released new details this week on the amounts of secured cryptocurrency (in bitcoin and bitcoin cash) and fiat currency it has approved for payouts to the estate's many creditors as part of the civil rehabilitation process.


In total, Kobayashi said, the balance of the exchange is 69,553,086,521 Japanese yen ($629,594,540) in cash. It also holds 141,686.35 BTC and 142,846.35 BCH – cryptocurrency worth over $593 million.
The largest e-commerce company in Latin America, Mercado Livre, has banned cryptocurrency advertising on their website, Cointelegraph em Português reported on March 18.

The new policy requires all users to remove their listings pertaining to digital currency, otherwise all listings will automatically be taken down from the platform starting March 19. One of the users received a letter, saying:


"We would like to inform you that as of March 19, you will no longer be able to advertise used products in the following categories:
– Cryptocurrencies
– Prepaid cards for games
Because you have ads for used products that will soon be banned, we recommend that you end them. Otherwise, they will be finalized on the date mentioned above. "
China's Center for Information and Industry Development has released its latest crypto project ranking. Tron and EOS top the list out of the 35 crypto projects evaluated while Bitcoin has been downgraded slightly. The center also evaluated the projects independently based on basic technology, applicability, and creativity.

The Center for Information and Industry Development (CCID), under China's Ministry of Industry and Information Technology, released the 11th update of its crypto project ranking report on Friday. The number of crypto projects evaluated this month was 35, unchanged from the previous month.
? Daily Crypto Calendar, March, 23rd?
QPocket is available in Apple App Store in USA, Singapore and HK! Open the link on iOS safari to install it.
Withdrawals will open on Catex.io exchange for PTX coin.
Bitmart Exchange Listing
"Sponsored by Horizen, the privacy cryptocurrency for everyday use, this meetup is hosted in person by local ASFL hosts…"
Join the Phore blockchain Event in Lagos at the Chartered Institute of Bankers of Nigeria to promote the use and adoption of Phore.
STEEM Trading Update by my friend @cryptopassion
Here is the chart of yesterday :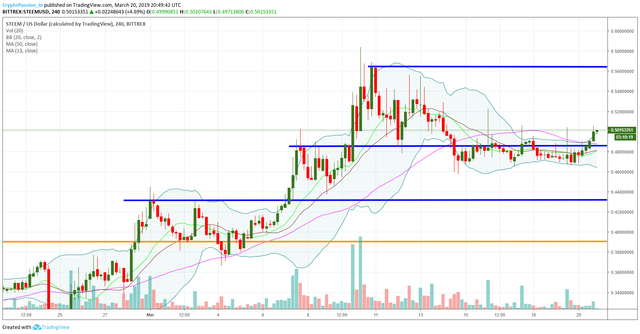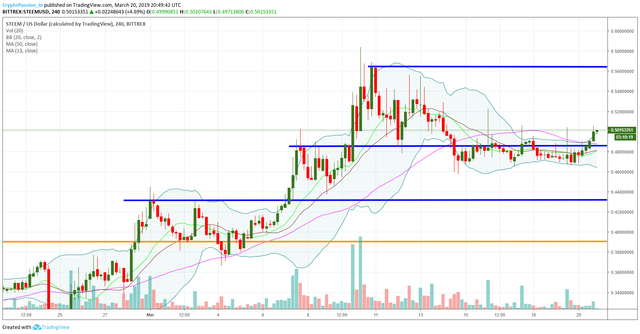 Here is the current chart :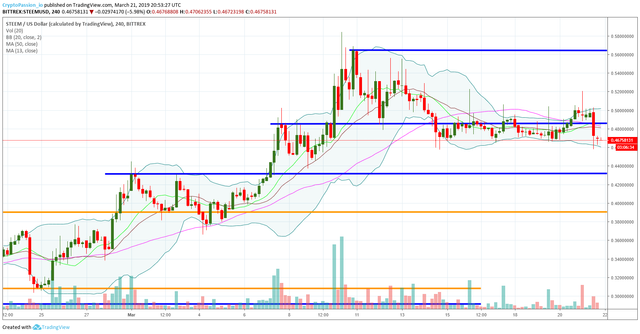 The BTC did a correction today and unfortunatly, the STEEM followed the master. The support line around 0.49$ didn't hold us. We have now to see if we will go back test again that resistance line at 0.49$ or if the break will be confirmed and that we will go now in the direction of the next support line around 0.43$.
Last Updates
Join this new Free To Play on the STEEM Platform !
You don't want to miss a Crypto news?
Join SteemFollower and get Upvotes back !