Welcome to the Daily Crypto News: A complete Press Review, Coin Calendar and Trading Analysis. Enjoy!
Bitcoin jumped to a five-week high of $4,100 earlier today, reinforcing the bullish view put forward by the recent bounce from the crucial 30-day moving average support.

That, coupled with the flag breakout on the 4-hour chart, indicates scope for a re-test of $4,190 (February high).


The short-term bullish case would weaken if prices fail to close today above $4,055 (March 21 high).


On the downside, a bearish reversal would be confirmed if and when prices find acceptance below the 30-day moving average, currently at $3,900.


Additionally, bitcoin's 200-candle moving average (MA) on the three-day chart – a lagging indicator – is flatlined for the first time since early 2015. If history is any guide, then BTC could oscillate in the recent trading range of $3,100–$4,300 in the next few months before breaking into a bull market once the 200-candle MA begins trending south.
The U.S. Securities and Exchange Commission (SEC) has delayed making a decision on two bitcoin exchange-traded fund (ETF) proposals earlier this year.


The first ETF proposal, filed by Bitwise Asset Management with NYSE Arca, was published in the Federal Register on Feb. 15, kicking off the first 45-day clock for an initial decision on the filing. Overall, the SEC has 240 days to approve or reject any ETF proposal. Today's decision means the SEC now has another 45 to consider the proposal.


As a result, the SEC said Friday it will "either approve or disapprove, or institute proceedings to determine whether to disapprove, the proposed rule change" by May 16, 2019.
According to today's letter, the SEC has so far received 21 comments on the proposed rule change.

Coinbase Custody is offering staking services to institutional clients, starting with Tezos.


Client assets will remain inside Coinbase's fully insured cold storage at all times, mitigating risk to investors.


Since staking requires some funds to be kept online, Coinbase will put up its own coins, assuming the risk.


After deducting Coinbase's fee, clients can expect to earn about 6.6 percent annually, the firm says.
Today, March 30, crypto exchange Bithumb posted on Twitter that their cryptocurrency withdrawals and deposits have temporarily been paused.


In an explanation linked to the tweet, the exchange writes that at 10:15 (time zone unknown) on the 29th, they detected what they describe as abnormal withdrawals through their monitoring system.
The Ethereum network is losing ground as developers switch to other projects, various experts told Bloomberg on March 28.


Ethereum, which debuted in 2015, initially provided a platform on which developers could build decentralized apps (DApps), conduct initial coin offerings (ICOs) and write smart contracts. Many saw it as being the successor to Bitcoin (BTC).


According to Bloomberg, developers are now opting for other platforms like EOS and Stellar. In January, only 28 percent of DApps users were on the Ethereum network, while the EOS network saw 48 percent and Tron accounted for 24 percent.
India's impending general election could affect the government's process of regulating the crypto industry. A local lawyer has explained to news.Bitcoin.com how the election can impact regulations. According to the Indian Election Commission's code of conduct rules, no new law can be passed during the election.

India's general election is approaching with the voting due to take place in seven phases between April 11 and May 19. The results will be announced on May 23. Explaining how the election could have an impact on crypto regulation in India, Varun Sethi, founder of Blockchain Lawyer, told news.Bitcoin.com Saturday:
📑 Daily Crypto Calendar, March, 31st💰
VeriDoc Global Launches Compare Documents Tool.
The launch of Nucleus' product in North America is scheduled for Q1, 2019 with an estimated 25,000 ION sensors deployed.
"DENT will be adding voice telephony and SMS sending right into the apps, becoming a world-wide, blockchain-based "Virtual Telco". "
Production release in Q1 2019.
QLC Chain launches mainnet with its first application "Global SMS Billing Platform" at 2 PM (UTC).
STEEM Trading Update by my friend @cryptopassion
Here is the chart of yesterday :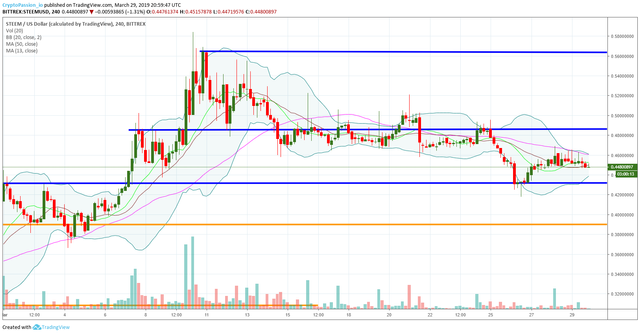 Here is the current chart :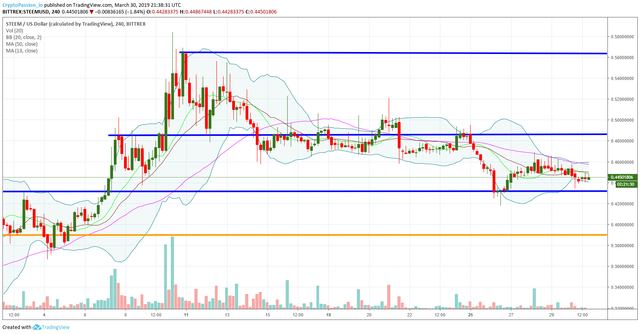 So the STEEM is still going in the direction of our support line around 0.43$. We had almost a test earlier but we had an immediatle bounce. I don't know why the STEEM is going down while the BTC is going up or stabilizing but I saw the last weeks that the STEEM is not really following the BTC so we could even have a nice UP without any move on the BTC. Let's be patient and trust in that crypto.day, even with the new UP of the BTC, we didn't do any important move. We have very little candles and we are staying just between these 2 lines. So it looks like the STEEM is triggered by something else than the BTC for the up. Let' see the coming days, I already saw in the past that we are not always fully synchronized with the BTC.
Last Updates
Join this new Free To Play on the STEEM Platform !
You don't want to miss a Crypto news?
Join SteemFollower and get Upvotes back !
---
Posted from my blog with
---
Posted from my blog with SteemPress : https://scrips.io/blog/mr-cryptolemon/%f0%9f%97%9e-daily-crypto-news-march-29th%f0%9f%92%b0/
---
---
Published by Mr. Crypto Lemon
on
---
Posted from my blog with SteemPress : https://mentormarket.io/cryptocurrencies/mr-crypto-lemon/%f0%9f%97%9e-daily-crypto-news-march-30th%f0%9f%92%b0/
---
---