Welcome to the Daily Crypto News: A complete Press Review, Coin Calendar and Trading Analysis. Enjoy!
Encrypted instant messaging service Telegram has officially released a test client for its Telegram Open Network (TON), according to files posted on test.ton.org.


The newly introduced archive of files available for download is a distribution of a preliminary version of the TON Blockchain Network Lite Client along with the relevant portions of the TON Blockchain Library, according to the readme information file. The development is a simplified stable version of the Lite Client.


On May 25, a GitHub user seemingly uploaded a version of the client. Per the readme file on GitHub, the client — if configured properly — connected to a full node for the TON blockchain testnet and sent some queries to it.
Thousands of cheese-shaped cartoon wizards will soon duel online for a grand prize of ether tokens.


Dapper Labs, the company behind the 2017 CryptoKitties craze, unveiled its newest ethereum-based gaming experience – "Cheeze Wizards" – last Friday. The game has already attracted 973 players who purchased 4,470 fighters, according to Dapper Labs co-founder Bryce Bladon.
Most of the ether spent on these digital wizards goes toward prizes, with 607 ETH collected so far for a combined total of roughly $190,977 at the current market price.

"A lot of blockchain games are trying to appeal to the mass market by sacrificing the decentralization and using side chains or hosted solutions. We want to go to the other side of the spectrum and create a game with the community for an experiment with user behavior in crypto networks."
Cryptocurrency derivatives provider LedgerX plans to become the first U.S. firm to offer physically settled bitcoin futures contracts.


The company announced Monday that it has filed for a designated contract market (DCM) license, which would allow LedgerX to offer physically-settled bitcoin futures products to its customers. Unlike the cash-settled bitcoin futures offered by CME Group (and previously, Cboe), customers would receive the actual bitcoin underlying a contract after it expires, rather than the U.S. dollar equivalent.


And perhaps more notably, LedgerX can target retail investors with its new offering, said Juthica Chou, who serves as both chief risk and operating officer at LedgerX.
Major New York news outlet, the Associated Press (AP) has announced that its latest version of The Associated Press Stylebook and Briefing on Media Law has a new section on cryptocurrencies in an official Twitter post on May 29.


According to the new AP style guidelines, which constitute a popular standard for professional publications, writers should capitalize the names of cryptocurrencies when referring to them as a system but should keep the first letter lowercase when referring to token payments. They provided the following two sentences as examples:


"The government wants to regulate Bitcoin, Ethereum and other cryptocurrencies. He bought a vacuum cleaner online using bitcoins."
Three of Ireland's "Big Four" banks are using blockchain tech to verify employees' credentials.


The Bank of Ireland, AIB and Ulster Bank are using a blockchain solution from Deloitte for the pilot initiative, news outlet Fora reported Thursday.
The solution, said to be the "first of its kind" in the European financial services industry, has been built using ethereum by Deloitte's EMEA Financial Services Blockchain Lab in Dublin to verify and track staff credentials and qualifications data, according to the report.


Staff will have their credentials held in a digital wallet, which will be used to help banks comply with Central Bank of Ireland regulations for meeting specific standards for senior staff.
? Daily Crypto Calendar, May, 30th?
Tron releases its second layer solution (Sun-Network), which increases scalability of the network through side-chains.
Chainlink released on ETH mainnet.
Testnet V1.0 launch (30.05.2019 at 00:00 UTC).
Fully operational open source mainnet will release on May 30, 2019.
"The first Airdrop to http://eFIN.com Partners is on May 30."
STEEM Trading Update by my friend @cryptopassion
Here is the chart of yesterday :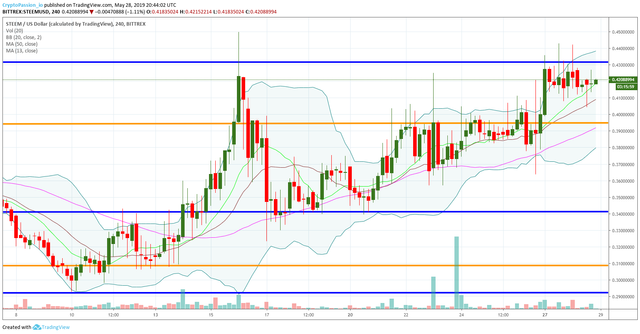 Here is the current chart :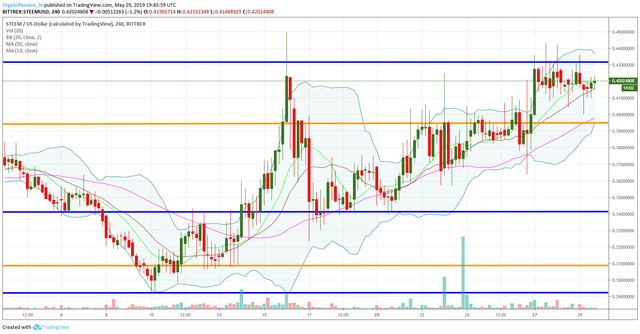 Till now, we havent been able to break the resistance line around 0.43$. This line has been tested several times but without success. I think we will need to wait the next Break Out on the BTC to know the direction that the STEEM will take. We are starting to have little candles without enough volatility to break this resistance line so let's wait the come back of the volume.
Join this new Free To Play on the STEEM Platform !
You don't want to miss a Crypto news?