Tom Lee's Bitcoin Misery Index Hits Highest Value Since 2016 in Possible Bull Signal;
The Upside of Bitcoin's Upside (It's Not What You Think) ;
Ethereum Core Developers Debate Benefits of More Frequent Hard Forks
France Passes Bill to Allow Insurance Providers to Invest in Crypto and Tokens ;
? Daily Crypto Calendar, April, 13th?
STEEM Trading Update
Welcome to the Daily Crypto News: A complete Press Review, Coin Calendar and Trading Analysis. Enjoy!
Wall Street strategist and co-founder of Fundstrat Global Advisors Thomas Lee revealed on April 11 that his "Bitcoin Misery Index" (BMI) recently hit its highest figure since June 2016. He suggested the data could be a good or a bad sign.


The BMI — which Lee designed with the aim of informing investors of how "miserable" Bitcoin (BTC) holders are based on the coin's price and volatility — reportedly hit a value of 89 on April 2. The Index assigns a value of 100 to positive sentiment and 0 to outright misery.
According to Lee, the fact that Bitcoin has reported its highest reading since June 2016 provides a mixed signal. He proposed two interpretations of the index, writing that:
"Good–> Since 2011, BMI >67 only seen during $BTC bull markets. More evidence bull starting. Bad –> BMI >67 after peak, $BTC falls ~25% = Profit taking ST."
In a further tweet in the same thread, the strategist argued that "the main takeaway is that BMI reaching 67 is further evidence the bear market for Bitcoin likely ended at $3,000."
The rally last week in cryptocurrency prices sent tremors of excitement through the mainstream press – is bitcoin "doing its thing" again? Could we be on the verge of a breakout?

These reports attract clicks and eyeballs, so I understand why they are run – but their breathless fascination with price volatility and potential profits misses the bigger impact.

While we can generally agree that investment gains are good, the broader benefit is this: cryptocurrency price increases throw into starker relief the uniqueness of the asset class.

(To avoid over-complicating the discussion, in this article I'll focus on bitcoin – but the same or similar arguments can also be applied to other cryptocurrencies, depending on their characteristics.)

The drop may now have thrown a spanner into a bullish market setup that had looked likely to propel prices to highs not seen since late last year. Had bitcoin's triangle breakout succeeded, a measured move to $5,800 may have been on the cards. However, bitcoin fell $300 short of that target as buyer volume fell short on the day
How often is too often to alter consensus?


A group of ethereum's veteran open-source developers discussed the subject in a bi-weekly meeting Friday, wherein they aired the possibility that system-wide upgrades, also called hard forks, to the software could be enacted as often as every three months.


Wanting to "check the temperature," the developer asking the question explained that certain upcoming ethereum improvement proposals (EIPs) such as state rents would require multiple upgrades sequentially spaced out for full effect.

French insurance markets can now invest in cryptocurrencies, following the passage of a new law, foreign exchange news agency FXStreet reports April 11.


On April 11, the National Assembly of France adopted a bill that is designed to stimulate local business development, including redirecting savings from individuals to businesses, according to local news agency Les Echos. According to Reuters, the Assemblee Nationale voted 147 in favor and 50 against.


Known as "Plan d'action pour la croissance et la transformation des entreprises," (Pacte) the act reportedly allows insurance providers in France to invest in cryptocurrencies such as Bitcoin (BTC) with no limit on the amount of investment.
Digital assets trading and custody platform Fidelity Digital Assets has named a former Coinbase executive the head of Sales and Marketing, according to a press release published on April 10.


Christine Sandler — who previously served as head of institutional sales at American major cryptocurrency exchange Coinbase — has joined Fidelity as its head of Sales and Marketing. In this role, Sandler will reportedly lead the expansion of Fidelity Digital Assets into new markets, as well as take responsibility for institutional customers service.
? Daily Crypto Calendar, April, 13th?
"The Stratis 2019 roadmap will be released next week. Stay tuned to find out all the exciting things we are working on."
"Vault KYC coming next week."
Luxcore segment with InnovateTV will be airing on 4/13 @ 5pmET on FOX Business Channel.
"Next week we will have more news about dates ans how it will work to register for the soft launch."
SmartCash meetup n Kaliningrad from 17:00 – 19:00.
STEEM Trading Update by my friend @cryptopassion
Here is the chart of yesterday :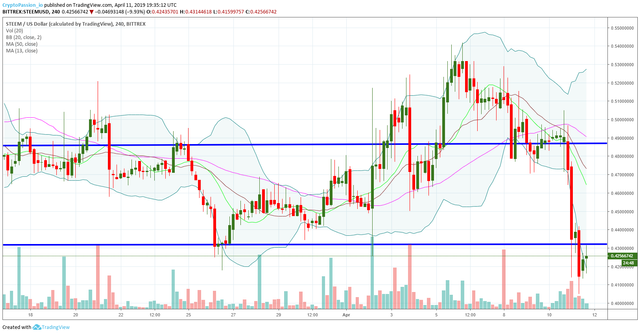 Here is the current chart :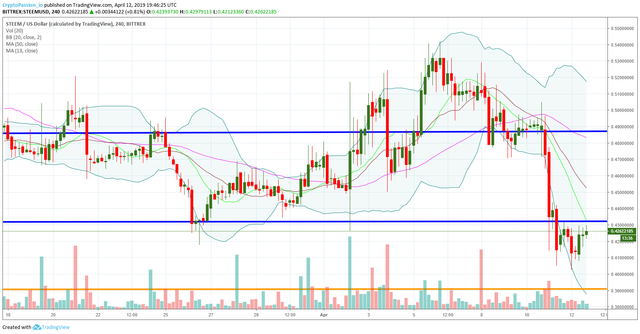 Be carefull, since the correction of yesterday we are doing a little consolidation and we a creating a possible pull back on the resistance line around 0.43$. This kind of pattern is very usual before the continuation of the previous trend. So here, we just had a correction and we have a high risk to have a sudden new drop after a touch or almost a touch of that resistance line.
Last Updates
Join this new Free To Play on the STEEM Platform !