Will The Price of Steem See Single Digits?
by scaredycatguide | December 6, 2018 7:20 pm
A technical analysis of the steem price chart is well overdue.  Maybe I was hoping to point out a confirmed bottom before I posted about steem again, but sadly – it may be a while.
The Valley Down Below
In order for you to see the support levels and targets I reference we need to back the chart up a bit, otherwise you will just be looking at what seems to be random lines at present day.
Currently steem is below 30 cents, which occurred today as the entire market is down.  So we need to figure out what our next downside levels could be.
You will see three lines draw near the bottom of the chart.  Each represents the next possible support level based on basing action we saw in the past.
We sit near the first one around 23 cents and nearly touched it today.  After that you can see the 15 cent area provides possible support.  Then the last level and basically the real absolute bottom support – 6 cents.
The Current Picture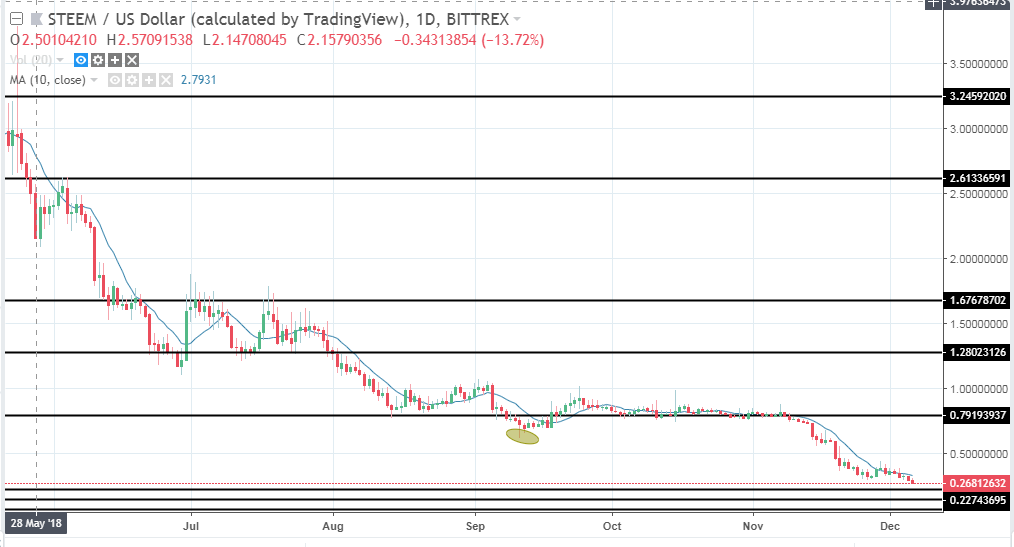 Looking at the present day chart you can see the three levels of support below and to be honest, looking at this can you see a reason why we don't at least test the first one near 23 cents?
My worry is that bitcoin and the market remain weak the remainder of the year which will likely mean steem is at risk of seeing double digits.
That is not the way I'd like to ring in the New Year!   Here's hoping for a Christmas Rally.
Source URL: https://mentormarket.io/scaredycatguide/will-the-price-of-steem-see-single-digits/
---