Bitcoin Technical Analysis: LARGER MOVE MAY BE COMING
by Workin | December 5, 2018 4:10 pm
Bitcoin continues to find support at $3,800. Zooming out on the 4 hour chart, we can see price continues getting squeezed within a larger wedge. This suggests a larger move may be coming within the next few days.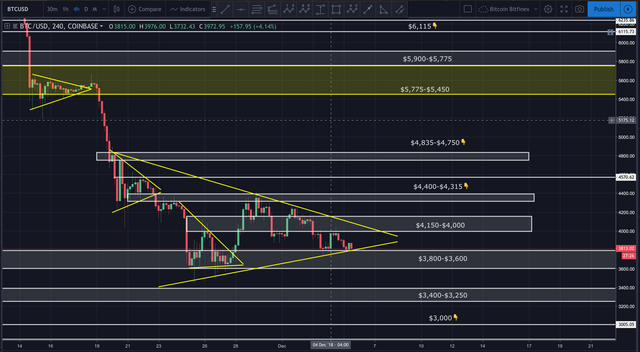 In today's video analysis I discuss where price may be heading next, traps to avoid and so much more. I hope you find it helpful. 
Video Analysis:
If you don't see the above video, navigate to TIMM (https://mentormarket.io/workin/) or Steemit in order to watch.
I hope this has been helpful. I'd be happy to answer any questions in the comment section below. Until next time, wishing you safe and profitable trading!
Workin
If you found this post informative, please:

Open an Account on Binance here:
https://www.binance.com/?ref=16878853
Support the Crypto Ecosystem with Brave Browser:
https://brave.com/wor485
Twitter handle is @Workin2005[1] and Facebook is https://www.facebook.com/Workin2005
Endnotes:
@Workin2005: https://steemit.com/@workin2005
Source URL: https://mentormarket.io/workin/bitcoin-technical-analysis-larger-move-may-be-coming/
---