A week and a half ago, I talked about a trade set-up on the AUD/USD where I talked about a risk-off and how the AUD/USD was continue to move higher, right into a shorting opportunity.
Currency Analysis Report 9/11/19 – Risk Off Environment Continues For AUD/USD
Because the Australian economy is a base metal exporting economy, as China goes, the Aussie dollar goes and closely follows the movement of copper prices.

 Probably the biggest factor with this "risk off" environment has to do with news about discussion between the US and China will resume in the coming weeks. However, I think the cat and mouse game these two countries are playing will continue into 2020. And when trade talks break down again, so will the AUD/USD. So I'm looking to short AUD/USD, but where might be a good entry to short, lets go to the charts to find out
Daily Chart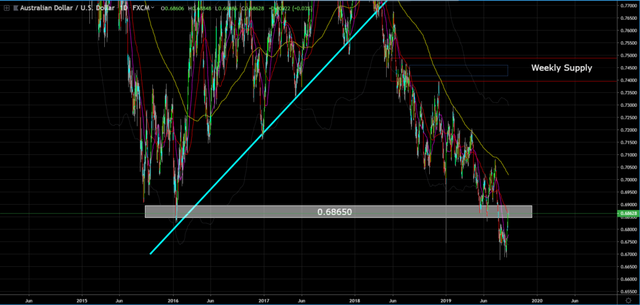 4 Hr Chart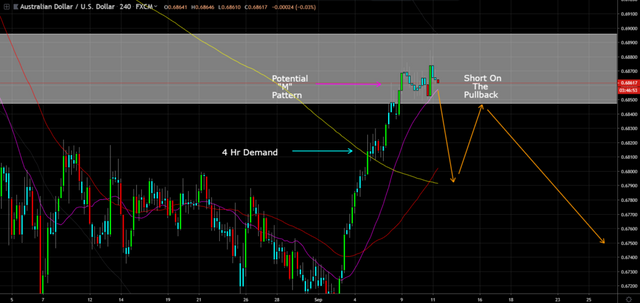 Since that time news came out earlier this week that the Australian employment rose in August with the jobless rate worsened to a one-year high of 5.3% as more people looked for work.  The unemployment rate is an important indicator for any country's economy, as it a measure of the labor market's strength, wage growth and inflation.  Thus, market speculators think there is an increased probability that during the Reserve Bank of Australia's (RBA) next policy meeting on October 1st, they will cut rates once again.
In addition, on Friday, news came out that Chinese trade negotiators canceled their visit to meet U.S. farmers after they wrapped up trade talks in Washington this week. So what do you think happened to AUD/USD, if you said it fell, well you are right?
Lets example things a bit closer, which will give a glimpse of how I trade, at the very minimum how I get into trades.
Price formed a supply zone (yellow circle), than a lower lower, than pulled back to the supply zone before collapsing. So why didn't I take the trade. 10 days ago, I attempting to predict the price action. What I was hoping for was price forming supply, for the sellers to take out that 4 hr demand first, before pulling back. This would of given me the all clear to short price. But that wasn't the case, so I didn't take the trade.
So what's the message…it's not about my trading, my edge or that sometimes I'm right. The message is price action will tell you where price is headed next…the news is just the catalyst that allows your trades to hit your target faster.
Speaking of targets, look for price to continue heading lower to the 0.6700 level.
This post is my personal opinion. I'm not a financial advisor, this isn't financial advise. Do your own research before making investment decisions.