Two weeks ago, I talked about a forex trade set up on the EUR/GBP that I missed,
Forex $1 MM Challenge – I Missed My EUR/GBP Short Trade
Since May the EUR/GBP has been screaming higher, so since May I have been waiting to short this forex pair. I saw the set-up I was waiting for Weds evening, thought I was going to have time to set it up on Thurs, but it was already triggers. Nevertheless, lets go through the set up.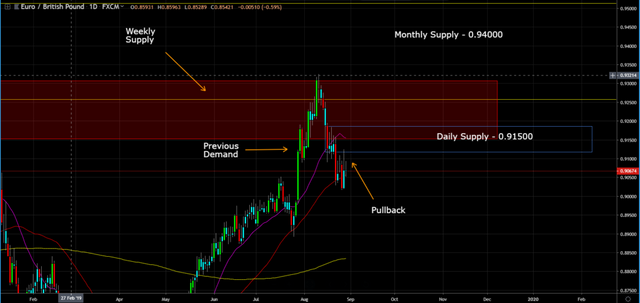 Since that time, a lot has gone on in the financial world.
On Thursday, the European Central Bank cut its deposit interest rate by 10 basis point pushing the rate to a minus 0.5% into negative territory. Super Mario said the cut was justified by the inflation rate remaining well below the ECB's target of 2%.
To combat the negative interest rates, ECB also introduced a two-tier rate system, to alleviate some of the pressure on European banks' balance sheets. The new system will ensure borrowers receive preferential rates if their eligible net lending exceeds a benchmark, providing an incentive for banks to use that money.
Another announcement made, but many economist weren't surprised, but the ECB also announced that they will reintroduce their quantitative easing program which is set to begin in Nov. Starting Nov. 1st the ECB will began buying 20 billion euros/month.
The theme at this meeting continued to be risks to the eurozone due to US-China trade war and where England is going to leave the EU, better know as Brexit.
Brexit is an abbreviation for "British exit," referring to the U.K.'s decision in a June 23, 2016 referendum to leave the European Union (EU). The process of Britain staying or not staying in the EU has caused a lot of uncertainty, which in turn has caused the British Pound to continue to drop in price. Since the vote to leave the EU, the Pound has lost 17% against the Dollar and almost 15% against the Euro. But recently every single GBP forex pair that I watch his showing GBP strength.
Sterling advanced against all major rivals Friday after being boosted by speculation suggesting the British government could be softening its red lines on the so-called Northern Irish backstop in pursuit of an amicable exit agreement with the EU ahead of an October 31 deadline.

Sterling was higher against all major currencies Friday as investors appeared to get excited at the prospect of the UK government might be open to some form of regulatory and legal divergence between Great Britain and Northern Ireland, following a report from The Times claiming Prime Minister Boris Johnson is contemplating such a move in order to improve his prospects of securing a deal after opposition MPs and Conservative Party rebels tied his hands in the negotiations earlier this month.
Recently every single GBP forex pair that I watch his showing GBP strength, including the EUR/GBP. Since the original post, price hit the zone again and has dropped 230 pips….without me.
However, I think the EUR/GBP is headed much lower…down to the monthly demand which is about 500 pips way. So if price can move down a bit further and pull back, I will be looking to take it short.
This post is my personal opinion. I'm not a financial advisor, this isn't financial advise. Do your own research before making investment decisions.