I wrote about Abercrombie & Fitch (A&F) six months ago,
Abercrombie And Fitch…Setting Up For A Short
The company was making progressive with their online initiatives as digital sales topped $1 billion for the full year, equivalent to roughly roughly one-in-three dollars spent at the brand is being spent online. And this online initiative tied into their omnichannel vision where customers could purchase items online and pick them up in stores. In, additional they are putting more effort into their loyalty club program which memberships have doubled in the past year.
So I give them a lot of credit for effort, but felt they were a small fish in the pond and would eventually get eaten for lunch due to the "Amazon Effect."
Thus, the chart was suggested to go short.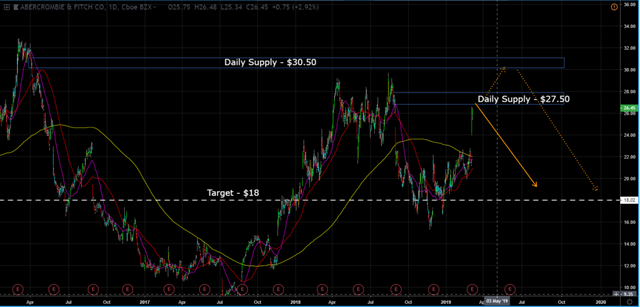 Abercrombie & Fitch Co. reported their second quarter earnings on Thursday and didn't meet expectation for sales and gave weak guidance.  They originally gave same-store growth of 2%-4%, but now the forecast is flat to 2% growth.
UBS analyst Jay Sole wrote earlier this month that the bar for apparel retailers is "essentially unreachable" this quarter due to the "major risk" of tariffs. With U.S. duties on Chinese goods poised to rise, Abercrombie said the latest round of tariffs are "expected to have a direct adverse impact on cost of merchandise and gross profit of approximately $6 million for the fall season.
Abercrombie & Fitch stock has lost 15.1% for the year to date,
but I think the stock is headed even lower.  The chart suggests price will test the all-time lows set in 2017 within 1-2 years.
This post is my personal opinion. I'm not a financial advisor, this isn't financial advise. Do your own research before making investment decisions.