WD-40 which stands for "water displacing" was first used by the military in the '50s to clean up Atlas missile parts. Throughout the years, people have found over 2000 uses for WD-40. Growing up in the projects of NYC, I have seen my fair share of roaches, but I just found out I in addition to using Raid Roach spray, I could of used WD-40 for instant kills as well.
Three months ago, I wrote a post about WD-40,
Did You Go Out And Buy WD-40 Too???
We all know it, have seen it, probably even take it for granted. I'm talking about WD-40. It has infinite uses and is the real utility knife. Just to get you acquainted again with WD-40, here are just 10 of the the 2000 uses of WD-40.

Despite the bump up in price this week, the levels in play and to monitor are the $150 level on the downside and the $188 level on the upside.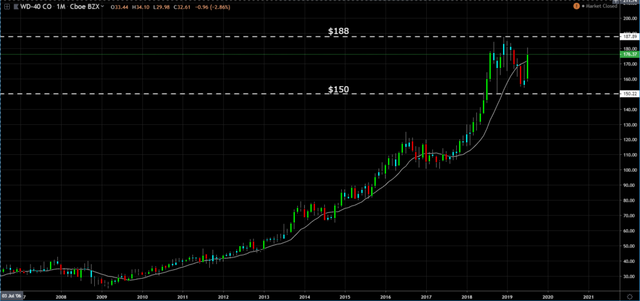 I like to think I'm creative with my titles, so the title three months ago was a play on words. Everyone should have WD-40 in the cabinet. However, WD-40 wasn't a buy three months ago simply put, because the upper limit was $190, the reward wasn't worth the risk. But thinking about this further, I guess it's all relative and depends on what type of investor / trader you are. Anyway lets get back to WD-40.
WD-40 is a straight cash money making machine.  The company has grown their dividends on a year basis that's equivalent to 9% over the last 10 years.  WD-40 has been growing its earnings per share at 13% each year over the past 5 years.  It's no wonder institutional investors hold almost 90% of the stock. 
WD-40 reported earnings this past week. Although they beat earnings expectations, their outlook was below expectations and on the news the stock price fell the next trading day, but came storming back closing $7 up on the day. However, the fact that price breached a major resistance/support line, I think the risk is to the downside now.
This post is my personal opinion. I'm not a financial advisor, this isn't financial advise. Do your own research before making investment decisions.