Two months ago, I talked about Piper Jaffray analyst Erinn Murphy being totally wrong when she reiterated an Overweight rating with a $40 price target for Tapestry. Her thesis was trends overseas are strong and they are not seeing pressure in their China business…although China is still their largest opportunity across the company's portfolio.
I really don't know how some analysts come out with these recommendations. I truly think my 84 year old mother could a saw this was a bad recommendation, at least until and if a US-China trade war reaches some type of agreement. Bu the charts were saying the same thing.
The chart suggests price goes to the weekly demand at $8, before going to $40.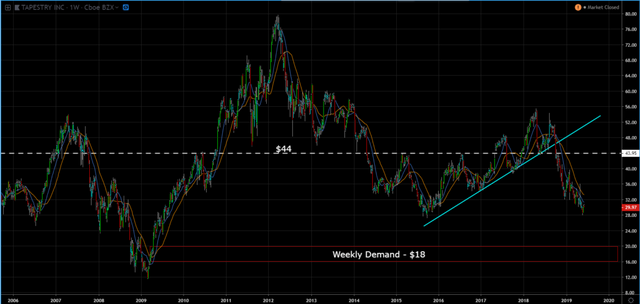 Erinn Murphy Is So Wrong About Tapestry
Tapestry Inc shares tumbled to their lowest level in over a decade Thursday after first-quarter revenue and profits fall in the fourth quarter which ended June 29th.
The CEO said they couldn't more the Kate Spade inventory due to a lack of newness and heavy discounts from the competition. As a result, same-store sales fell 6% in the fourth quarter and the company said sales would continue to fall in the high-teens in the first quarter.
I wonder what Erinn has to say about her overweight call on Tapestry now as price hit the weekly demand zone. I wonder if Erinn is still overweight Tapestry.
This post is my personal opinion. I'm not a financial advisor, this isn't financial advise. Do your own research before making investment decisions.