Hormel Foods fell almost 7% on Thursday, the single largest daily decline in almost two years after announcing a decline in sales and profits due to the African swine fever. Analysts forecast the loss of some 150 million to 200 million pigs this year, affecting about 5% of the global protein supply.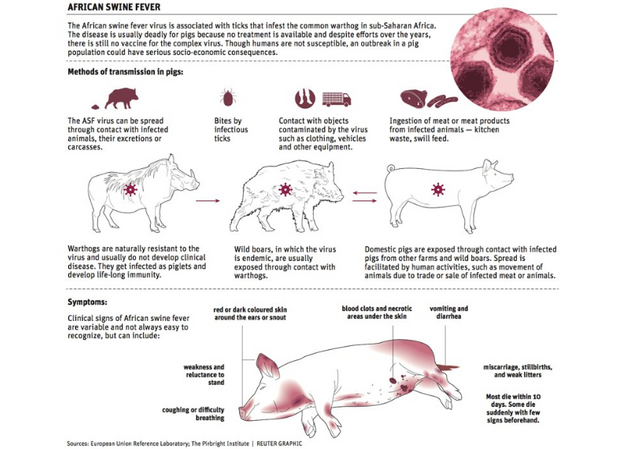 Revenue will probably not surpass $10 billion and earnings per share will reach $1.85 at the most this fiscal year, the maker of Spam canned meat and Skippy peanut butter said in a statement, down from earlier peak estimates of $10.2 billion and $1.91 a share.

The company will respond with price increases across a number of segments, including the groceries division, which also makes Dinty Moore stew.

The swine fever is the "biggest unknown in the protein industry," Chief Executive Officer Jim Snee said on a call with analysts after the results were released. Finance chief James Sheehan said hog prices will rise 10% to 30% from current levels.
And when I look at the charts, the techincals support the fundamentals.
On the monthly chart, price formed a double top, a reversal pattern.
On the weekly chart, price formed a "M" pattern, a reversal pattern.
Thus, the chart suggests price will fall to the weekly demand at $31.
This post is my personal opinion. I'm not a financial advisor, this isn't financial advise. Do your own research before making investment decisions.