The internet was originally built to hold and share data, making the transfer of data timely and seamless. The internet has evolved over time, and today the internet is allowing for a timely and seamless transfer of goods.
The rise of ecommerce outlets has made it harder for traditional retailers to attract customers to their stores and there is no bigger culprit than Amazon. So what did Kohl's do, the got in bed with the enemy a year ago and partnered with Amazon. Kohl's now accepts Amazon returns and has Amazon shops in their stores where they sell Amazon products such as the Echo smart speakers.
The partnership simplifying the returns process for Amazon and showcasing Echo devices and other Alexa-compatible hardware and in return brings in addition foot traffic into the Kohl's stores. Case in point, the partnership is even gaining traction with millennials, who otherwise would have ignored Kohl's.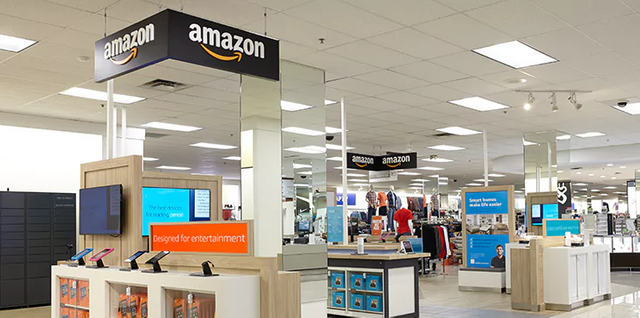 Kohl has even teamed up with Weight Watchers, for an in-store studio and Healthy Kitchen products at some locations.  In addition, in an effort to drive more foot traffic to its stores, Kohl's is partnering with Planet Fitness.
Retailers closed a record 100 million square feet of store space in 2017, another 155 million square feet, according to estimates by the commercial real-estate firm CoStar Group.  This year more than 9,000 stores are expected to close in 2019.  From Sears, Kmart, Party City, Walgreens, Barneys, Family Dollar, Chico's and others. Payless has said it plans to close all of its 2,500 stores in what could be the largest retail liquidation in history.
So is Kohl's really just holding on for dear life?
Department store chain Kohl's remained confident its Amazon partnership would boost sales despite cutting its full-year guidance ahead of the holiday season.

The retailer's stock KSS, -19.49% plunged more than 17% on Tuesday after missing third-quarter sales estimates and slashing its annual earnings forecast.

The company had hoped its expanded tie-up with the e-commerce company would have a positive impact on its second-half performance. However, Kohl's slashed its full-year earnings guidance after the third quarter—the first full quarter since the nationwide rollout of the Amazon Returns program. The company said it now expected adjusted earnings per share of $4.75 to $4.95, down from previous guidance of $5.15 to $5.45; the FactSet consensus had been $5.19. Same-store sales in the third quarter rose 0.4%, below FactSet estimates of 0.9% growth.

Despite the earnings miss, Kohl's Chief Executive Michelle Gass said the company had "momentum" going into the holiday season, which she was confident would be strong because of the Amazon partnership and investments in new brands and products.
Kohl's stock price fell the most in three years on the earning's announcement. So is there more pain in store, yes as the chart suggests price is heading down to the monthly demand at $35?
This post is my personal opinion. I'm not a financial advisor, this isn't financial advise. Do your own research before making investment decisions.