In the third-quarter of 2019, Citadel made 9-digit purchases in three particularly interesting stocks, one of which was Baker Hughes Company. Baker Hughes Company provides integrated oilfield products, services, and digital solutions worldwide. Citadel bought just over 13 million shares of BKR stock worth almost $300.
The man behind Citadel is Ken Griffin. Ken is the founder and CEO who started Citadel at the young age of 22. Prior to that starting Citiadel, in 1987, Ken, a then-19-year-old sophomore at Harvard University, started trading from his dorm room with a fax machine, a personal computer, and a telephone. Citadel manages over $200 billion in assets and is the one of the largest hedge funds in the world.
Also bullish on Baker Huges during that time was Cowen analyst Marc Bianchi, who had a price target of $30 price target. Now the issue with Baker Huges is, they are an oil service companies, so if there is a supply glut, oil rigs will go offline and exploration will decrease, which means a decrease Baker's services.
One month ago, Baker's prices was nearing a 10+ year low and the chart suggested there was more downside risk.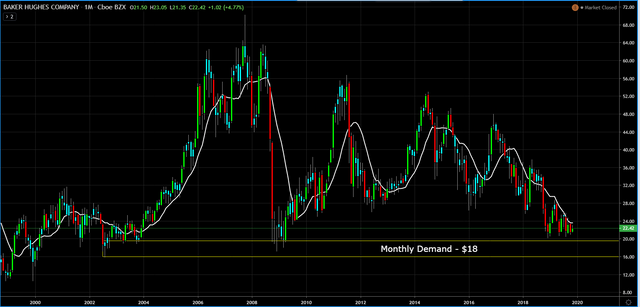 But since that time, it appears Baker's price has reversed.
Credit Suisse Group is a leading financial services company, advising clients in all aspects of finance, across the globe. The company was founded, based in Switzerland Founded in 1856 with headquarters in Zurich, Switzerland, has operations in over 50 countries and has named Baker Hughes one of their three top energy plays for 2020.
Last fall, BKR entered into a partnership with C3.ai and Microsoft, a three-way joint venture to develop ai cloud-based AI software solutions for the oil industry.

Just two weeks before announcing the partnership, BKR had reported strong Q3 earnings. Revenues and EPS both gained year-over-year, with the top line hitting $5.88 billion and EPS coming in at 21 cents. During the quarter BKR also improved its free cash flow, generating an FCF of $161 million.

Jacob Lundberg, reviewing the stock for Credit Suisse, took a bullish stance. Lundberg put a $28 price target on BKR, backing up a Buy rating. His target suggests a 9% upside to BKR stock. BKR is another stock with a unanimous Strong Buy consensus rating, this one backed by 9 recent Buy reviews. The $29 average price target suggests an upside premium of 14% from the $25.43 current share price.
Deutsche Bank's Chris Snyder sees the company as a "top pick" and stated their $20 billion in Turbomachinery & Process Solutions line is a significantly under-appreciated element at Baker and will drive multiple expansion and has a $32 price target.
And in mid-December, the US oil and gas rig count increased by double digits for the first time since April, according reaching 813 rigs after increasing by 14 for the week, according to Baker Hughes.
Thus, the chart suggests, price can move higher to the daily supply at $32.
This post is my personal opinion. I'm not a financial advisor, this isn't financial advise. Do your own research before making investment decisions.