Zscaler, Inc. operates as a cloud security company worldwide. The company's flagship services include Zscaler Internet Access solution that connect users to externally managed applications, including software-as-a-service applications and Internet destinations; and Zscaler Private Access solution, which is designed to provide access to internally managed applications, either hosted internally in data centers, and private or public clouds.
Have you ever head of Amazon Web Service…it's the reason why Amazon remains in business and funds Amazon's expansion plans into everything? It's their printing press for most of Amazon's profits. In 2018, Amazon made $7.2 billion in domestic sales, while losing $2.1 billion in international sales, but AWS made approximately $7.3 billion.
When looking at public cloud, AWS still holds almost 50% of the market, while the the next-closest competitor is Micosoft's Azure at almost 25%.
So what does AWS and Zscaler have to do with one another. Hackers send bots to GitHub, to look for digital access keys to Amazon Web Services and other cloud systems.
So there is a legitimate need for Zscaler's services as demonstrated from the chart.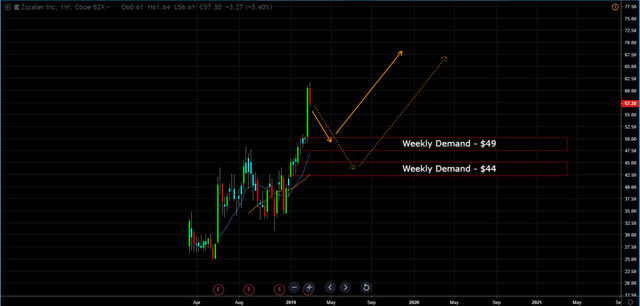 Zscaler just reported their fourth quarter earnings and although they beat Wall Street estimates for earnings and revenue, there full year guidance was short of expectations.
Zscaler stock dived 20.8% to 48.79 before the market open on the stock market today. On the Zscaler earnings call, analysts sought management views on growing competition with Palo Alto Networks (PANW) and others.

"We think a meaningful issue on the call, and over the past few weeks, is the conflicting competitive dynamics between the firewall vendors, including but not limited to Palo Alto, and Zscaler," BMO Capital Markets analyst Keith Bachman said in a report to clients.

"Our take is that Palo Alto has won a few smaller deals, but is not disrupting the Zscaler pipeline as much as implied at Palo Alto's recent analyst event," Bachman said. "Nevertheless, we think Zscaler valuation heading into the July quarter left little room for deceleration, and/or competitive concerns."
So for anyone waiting for the pull back, now is your chance to buy with the Smart Money as price has pull back to the weekly demands.
This post is my personal opinion. I'm not a financial advisor, this isn't financial advise. Do your own research before making investment decisions.