Nordstrom, Inc., a fashion retailer, provides apparel, shoes, cosmetics, and accessories for women, men, young adults, and children. It offers a range of brand name and private label merchandise through various channels, such as Nordstrom branded full-line stores and online store at Nordstrom.com; Nordstrom Rack stores; Nordstromrack.com and HauteLook; Jeffrey boutiques; clearance stores that operate under the Last Chance name.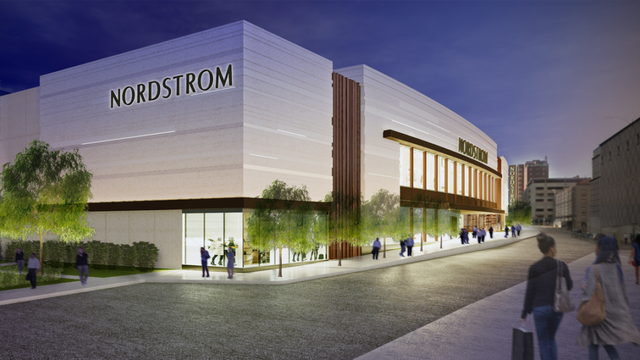 Three months ago I wrote about Nordstrom quarterly report and how they missed Wall Street estimates, but how the Nordstrom blamed the dismal numbers on the roll out of their new loyalty program and slow sales in women's clothing, but that it was correctable. Correctable or not, the chart suggested further downside to the weekly demand at $28.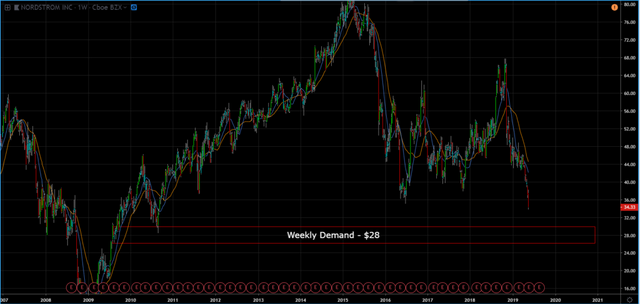 This time around Nordstrom reported a better-than-expected quarterly profit on Wednesday as it said it had cut costs and cleared more inventory, sending its shares up 10% in extended trading and price is reacting to the weekly demand zone.
 As part of their strategy to manage inventor is by offering more on-trend products. Despite Nordstrom investing heavily in both its e-commerce business and loyalty programs which led to a 4% increase in digital sales, weaker sales at their brick and mortar stores dragged total revenue down 5%. I personally think Nordstrom is heading lower…my next target is $15 within the next 1-2 years.
This post is my personal opinion. I'm not a financial advisor, this isn't financial advise. Do your own research before making investment decisions.