Taiwan Semiconductor Manufacturing Company Limited (TSM), together with its subsidiaries, engages in manufacturing, selling, packaging, testing, and computer-aided design of integrated circuits and other semiconductor devices. The company manufactures masks and electronic spare parts; researches, develops, designs, manufactures, sells, packages, and tests color filters; and offers customer and engineering support services.
(TSM) is the world's largest manufacturer of semiconductors. TSM has been involved with chip design since the 1980s and today produces chips for some of the largest clients in the world.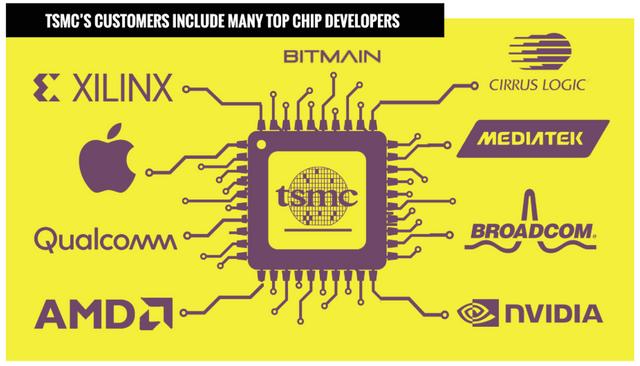 One such company is Apple. TMS produces chips for Apple and gets 20% of its sales from Apple.
Two months ago Apple reportedly boosted component orders for the iPhone 11. In particular, Apple bumped up orders for the $699 iPhone 11 and the $999 iPhone 11 Pro. Some analysts are thinking Apple can sell up to 185 million iPhone 11s. In addition, according to one analyst, Apple AirPods are seeing a surge of demand and could face holiday shortage.
Are you connecting the dots yet?
Apple (AAPL) iPhone chip supplier Taiwan Semiconductor Manufacturing (TSM) saw healthy sales growth in November thanks to strong demand for smartphone processors. Taiwan Semiconductor stock spiked to a record high on the news Thursday.

Taiwan Semi reported revenue of $3.54 billion in November. Sales rose 1.7% from the previous month and popped 9.7% year over year in local currency.

"We think this is largely due to smartphones (seasonal ramp) along with a recovery in data center chips," RBC Capital Markets analyst Mitch Steves said in a report to clients
The chart suggests to look for a pull back to go long near the $52 level.
Another derivative play on Apple is Qualcomm. Qualcomm Incorporated designs, develops, manufactures, and markets digital communication products worldwide and the company happens to be right in the center of 5G.
Qualcomm just announced their Snapdragon 865 5G chip which is capable of processing 2 gigapixels per second while delivering speeds of up to 7.5Gbps 5G connectivity.
Apple has plans on selling four new iPhones next year that could all be compatible with ultra-fast 5G wireless networks.
The chart suggests Qualcomm will continue to move higher to at least the $100 level.
This post is my personal opinion. I'm not a financial advisor, this isn't financial advise. Do your own research before making investment decisions.