Earlier in 2019, a former hedge fund manager, Whitney Tilson said Tesla will be below $100 by the end of 2019. At the time, Tesla was trading at $295, but Whitney felt Musk has no more rabbits to pull out of his hat and therefore it was all downhill from there. Whitney also felt for the first time, the number of investors losing faith in Musk is starting to exceed the number of investors. Two months, Tesla announced that was looking to raise almost $3 billion in debt and equity, with Elon buying $25 million in stock as good faith, upping Elon's stake in the company to 20%.
One of the more famous short sellers is Jim Chanos. Jim Chanos is an American investment manager and currently serves as president and founder of Kynikos Associates, a New York City registered investment advisor who is focused on short selling.
Jim is the same person that made headlines when he said Grubhub was a short due to Grubhub's inability to make any money on each order. Weeks later, Grubhub announced dismal earnings and the stock tanked.
Regarding Tesla, there were rumors that Jim Chanos covered his shorts on Tesla, but it was in fact just a rumor. What concerns Jim is that Tesla's valuation within a capital intensive business, making cars. Jim thinks the Model S is a great car, but the competition is knocking on the door. In addition, he feels demand for the Model 3 in North America has peaked. And lastly, Jim feels Elon's behavior is "promotional," meaning he promises the world, but under delivers.
Short sellers have long targeted Tesla shares and currently have almost a $10 billion bet against the Tesla according to data from the financial analytics firm S3 Partners. The 28 million shares shorted amount to 21% of total shares outstanding, according to S3.
But there is one bull, who has been bullish on Tesla for many years.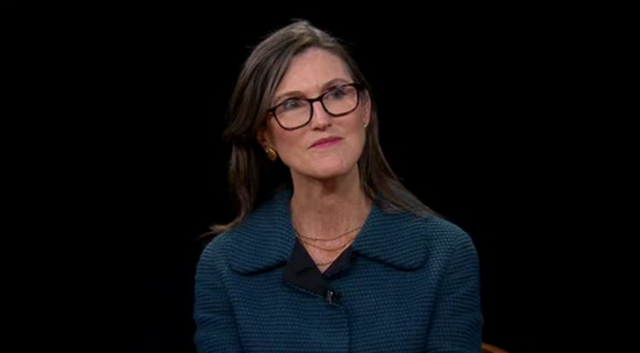 Catherine's firm focuses disruptive technologies and thinks electric there will be millions and millions of cars on the road faster than people realize. She believe Tesla isn't a car company, but a technology company, Tesla is one of her fund's largest holdings. In February of 2018 she went on CNBC and said she believes Tesla could hit $4000 and that her bear case was $600.  In recent weeks, she went back on CNBC and reiterated her targets for Tesla.
Tesla Inc (NASDAQ: TSLA) shares gained 3% on Friday after the company reported better-than-expected fourth-quarter delivery numbers. The electric vehicle stock is now up 99% in just the past six months, but Tesla short sellers are seemingly still not convinced the rally will last.

Tesla reported 112,000 vehicle deliveries in the fourth quarter, beating consensus analyst estimates of 106,000 vehicles. For the full year, Tesla delivered 367,500 vehicles in 2019, up 50% from 2018. The 367,500 deliveries was on the low end of the company's 2019 guidance range of between 360,000 and 400,000 deliveries.

On Friday, S3 Partners analyst Ihor Dusaniwsky said there are still 27.64 million shares of Tesla held short, a position worth about $11.89 billion. That short interest represents about 20.6% of Tesla's float.
If the current price action doesn't scare the Shorts, Tesla delivered the first China-made Model 3 one week ago. During their fourth quarter earnings call, Tesla announced that factory has already demonstrated production run-rate of 3,000 units per week and they have the necessary means to get to 150,000 units / year or 40% of Tesla's current annualized global deliveries.
The fact that price broke out last month, the chart suggest the Shorts are due in for more pain ahead.
This post is my personal opinion. I'm not a financial advisor, this isn't financial advise. Do your own research before making investment decisions.