Nio manufactures and markets electric vehicles. Nio was founded in 2014 and is headquartered in Shanghai, China and already has financial backing from Baidu and Tencent. Last year, Nio had an initial public offering on the New York stock exchange. They plan to use the money to ramp up production of their current ES8 and launch new vehicles in China first and then globally.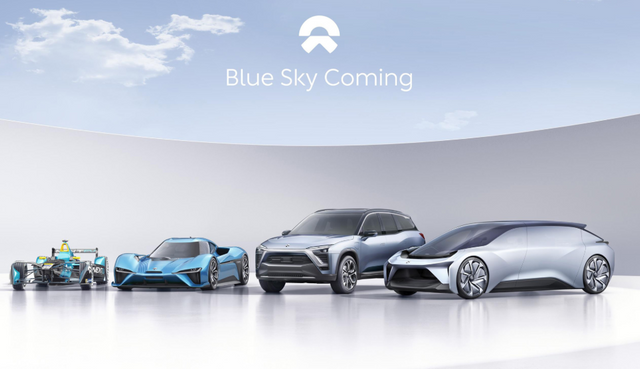 They too have an aggressive global long term plan which includes mobile charging stations inside electric vans, several electric car service centers, and battery swap stations. However, their plans were too aggressive.
Due to uncertainty around China's economy, the status of a government subsidy for buyers of electric vehicles and delays in building their own factory, the stock price has declined in recent months.
NIO's second-quarter net losses increased 83% from a year earlier to 3.29 billion yuan ($462 million), according to a statement. The deficit was worse than the 2.6 billion yuan average estimate of two analysts surveyed by Bloomberg, and it was the company's second-largest based on available data dating back to 2017.
However, their earnings today told a different story.
Shares of Nio rocketed on heavy volume Monday, and were headed for a record rally, after the China-based electric-vehicle maker reported a third-quarter loss that narrowed more than expected, as revenue and vehicle deliveries surged, helping to provide an upbeat outlook for the current quarter.

For the fourth quarter, Nio said it expects revenue of RMB2.81 billion, well above the FactSet consensus of RMB2.07 billion, while deliveries are expected to spike up to jump to over 8,000 vehicles.

The stock ran up 79.3% in afternoon trading, to lead all gainers listed on the New York Stock Exchange. Shares were on track to post the biggest one-day gain since it went public in the U.S. on Sept. 12, 2018, topping the previous record of 75.8% on Sept. 13, 2018.
After such a huge gain, it's no surprise traders/and investors are taking profits as price has hit the weekly supply at $4.80.
The Smart Money was all over the options this morning. They were buying short dated call options that expire this Friday as the options are up anywhere from 300 – 500% from yesterday's closing option price. For example, take the call option at $3.50, it opened today at $0.04 and now is trading at $0.26.
Price is now sandwich between weekly demand and supply. Until price breaches and closes above the weekly supply zone, the upside is limited.
This post is my personal opinion. I'm not a financial advisor, this isn't financial advise. Do your own research before making investment decisions.