Three days ago, I talked about unusual options activity in Apple
Unusual Options Activity In Apple
After earnings, the stock price went from $220 to under $190, which represented a 14% drop. Since any stocks' move is comprised roughly 49% of the broader market move and 31% of the stock's sector move reason for the Apple's drop was the DOW's 800 point move to the downside. Nevertheless, algos and hedge fund managers saw price hitting the 200 moving average and that's when price caught the bids. That's also when the Smart Money bought an astounding 48,000 call options with a strike price at $200 that expire today.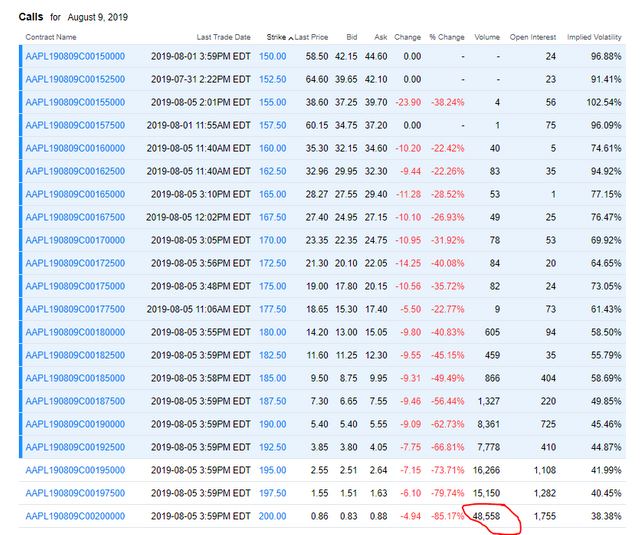 Now the price at which those options as I write this post are sitting at $.70 or $70 per contract,
but prior to the Market close yesterday those contracts were at $300 / contract.
This represents a return of 254% for the Smart Money. Why do I say they made a profit, because they sold out of their positions yesterday? How do I know this, because the the 48,000 contracts, the volume in this case on Tues, would of shown up as open interest on Wednesday. Open interest indicates the total number of option contracts that are currently open or held.  Unlike options trading volume, open interest is not updated during the trading day. So the Smart Money sold their options between Wednesday and Thursday, because the open interest going into the trading day Friday only shows a bit over 1500 contracts.
Another example of why I only follow the Smart Money…plain and simple, they have information that simple isn't accessible to anyone else.
This post is my personal opinion. I'm not a financial advisor, this isn't financial advise. Do your own research before making investment decisions.