Two days ago I talked about some Nomura analysts talking about the inverted yield curve leading to a slowdown, but how some tech companies like Amazon will outperform during a recession. Clearly this was a complete joke…tech has lead this bull market up the last 10 years and tech will lead the Market into a bear market when it's all said and done. I even gave an example of this thesis and how the Nomura analysts will be wrong based on the "V" shape recovery we experienced at the beginning of the year.
Wall Street Analysts Continue To Make Me Laugh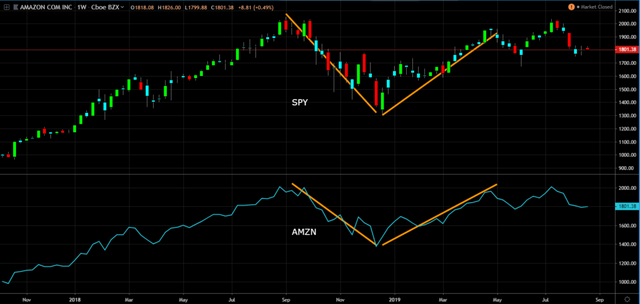 Today's Wall Street Analysts Continue to Make Me Laugh comes from JP Morgan.
Beyond Meat had their second quarterly earnings announcement less than one month ago. Although they reported a second quarter loss of $9.4 million, sales nearly quadrupled from a year ago. In additional, Beyond Meat raised its revenue guidance for 2019 to $240 million on Monday, up from more than $210 million previously. However, the stock sold off after they announced that it would be selling an additional 3.25 million shares of common stock. Three million of these shares are held by current stockholders, and 250,000 shares will be newly issued and are set to trade on August 1.
It appears the dust has settled so JP Morgan updated the stock earlier this week and moved their price target from $188 to $189.
J.P. Morgan upgraded alternative meat company Beyond Meat on Tuesday, calling its shares "appealing once again."

The firm raised its rating to overweight from neutral and lifted its target price to $189 a share from $188 a share. J.P. Morgan cited several reasons for its upgrade, including the fact that the stock has dropped 40% since its high on July 26.

"With cash-on-hand likely to exceed $300MM by the end of 3Q, another guidance raise potentially ahead, and the stock 40% off its high, we think the stock is appealing once again," J.P. Morgan said in a note to clients.
If shares are "appealing once again" and if the stock price is at a discount price again after a 40% drop, why raise your price target by $1?  This was a complete joke. Nevertheless, price broke through the daily demand at $167
and in the process, formed a daily supply at $179. Price could definitely move higher from here. However if buyers missed out on the first leg up, the chart suggest a great entry will be if price fills the gap at the daily demand at $100.
This post is my personal opinion. I'm not a financial advisor, this isn't financial advise. Do your own research before making investment decisions.