Zynga Inc. develops, markets, and operates games primarily for the mobile devices such as Apple iOS and Google's Android operating systems, as well as on social networking sites, such as Facebook.
Zynga now gets over 90% of their revenue through mobile game play with hits like Empires & Puzzles & CSR2.  However, their more famous games include FarmVille and Mafia Wars.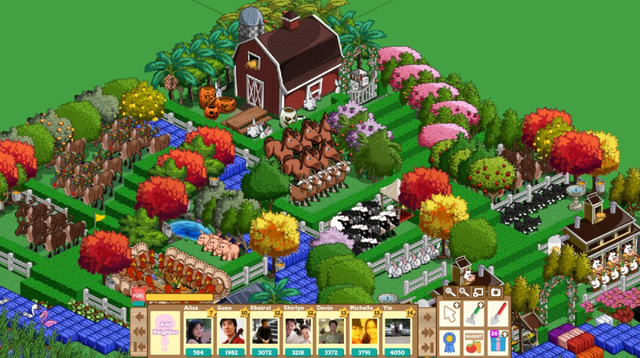 I wonder how Mafia Wars sizes up to DrugWars? DrugWars wins hands down because is a free to play massively multiplayer strategy and simulation game based on Steem blockchain where people can get rewarded and I can't say the same for Mafia Wars.
I would say their most famous game is FarmVille and FarmVille 2: Country Escape, featuring country music icon Trisha Yearwood as an avatar to celebrate the 10 year anniversary of the franchise is arriving just in time for the holiday seasons. I can't believe I'm about to talk about Christmas already.
The gaming industry is really no different than the retail industry. The 4th quarter is the biggest quarter for retail sales in the United States. It's when consumers open their purses and wallets to most. Many companies rely on the sales between October and December to determine if they will be in the red or black for the year. It's also during this time some of the household game publishing companies release their latest and greatest games.
 In October of 2018, game publishers released: Forza Horizon 4, Assassin's Creed Odyssey, Call of Duty: Black Ops 4, Red Dead Redemption 2 and Astro Bot Rescue Mission Return of the Obra Dinn.
In November of 2018, game publishers released: Fallout 76, Battlefield V, Tetris Effect and  Diablo III: Eternal Collection
In December of 2018, game publishers released: The Last Remnant: Remastered and DUSK.
Then there is Zynga, who remains relevant and who is holding their own with game releases later in 2019.
 Wedbush Securities added mobile game publisher Zynga to its Best Ideas List.

"We think that key titles 'Empires & Puzzles' and 'Merge Dragons,' along with three new releases later this year (and additional new games thereafter), have the potential to drive significant upside to the Street's expectations through 2021," Wedbush analyst Michael Pachter said in a report Tuesday.

He rates Zynga stock as outperform with a price target of 9. Zynga stock surged 2.1% to finish at 5.72 on Tuesday.
Now that price has broken monthly supply at $6.00, the potential demand just below the zone is now legit.
However, this one is tricky, you have daily demand, but price action also formed a "M" reversal pattern.
In addition, during the formation of the "M" pattern, daily supply was formed. Thus the chart suggests, to wait for price to break the daily demand to go short or the top of the "M" pattern before going long.
This post is my personal opinion. I'm not a financial advisor, this isn't financial advise. Do your own research before making investment decisions.