Arthur D. Cashin, Jr. is a managing director of UBS Financial Services Inc. and the Director of Floor Operations for UBS Financial Services at the New York Stock Exchange is a well-respected figure on Wall Street.
Traders are trying to remain positive as stocks came off their sharp morning lows, veteran trader Art Cashin told CNBC on Wednesday.

"If we rolled over here and violated the morning lows, then it would really begin to be a problem," said Cashin, UBS director of floor operations at the New York Stock Exchange. "For now, everybody is kind of crossing their fingers and whistling past the graveyard, saying, 'OK, we tested Monday's lows,'" he added, around midmorning as the worst of the sell-off was abating.

"The S&P held, so I guess we can be in good shape," said Cashin, who predicted rocky markets for the next few weeks as global trade tensions mount. "I think volatility is here to stay."
However, there is one reason and one reason only why the US equity markets are off the Monday lows.
The moving average is the most ubiquitous and simplest technical analysis tool used by discretionary and system traders, market analysts and those pestering algos. The 200 moving average, the king of moving averages is used on a daily chart to determining the overall long-term market trend over the last 40 weeks.
Discretionary and system traders, market analysts and those pestering algos also use moving averages for support and resistance. For example, in February and April of 2018, the 200 moving avg. (yellow line) served as support for the Market.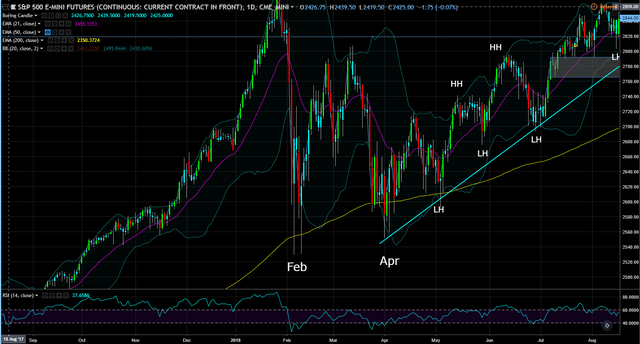 In October of 2018, the same thing happened.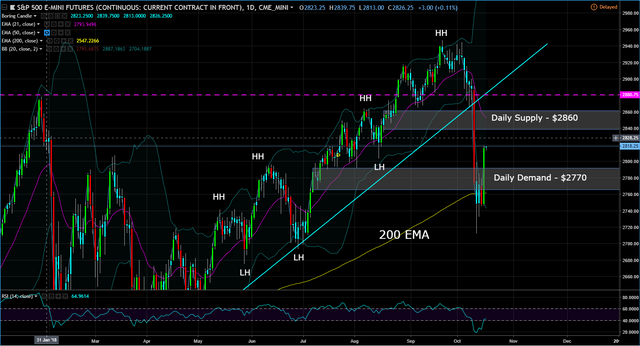 And again this week,
Whether you trade cryptos, stocks, forex, but don't have the 200 moving average on your daily chart, consider plotting it on your daily chart as it might offer you an additional edge to accompany your trading strategy.
This post is my personal opinion. I'm not a financial advisor, this isn't financial advise. Do your own research before making investment decisions.