The Industrial Select Sector SPDR® Fund, XLI, seeks to provide precise exposure to companies in the following industries: aerospace and defense; industrial conglomerates; marine; transportation infrastructure; machinery; road and rail; air freight and logistics; commercial services and supplies; professional services; electrical equipment; construction and engineering; trading companies and distributors; airlines; and building products. Top holdings include: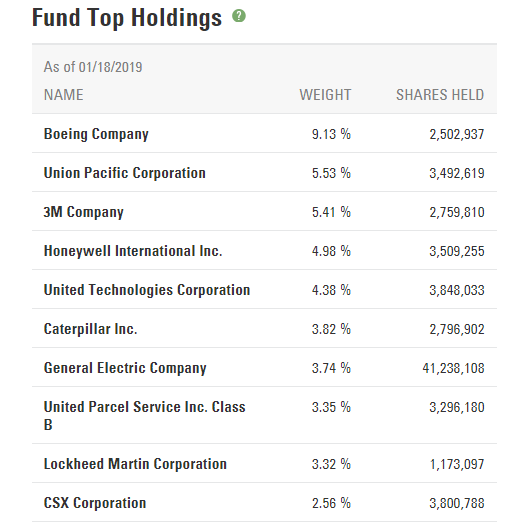 Industrials have been hit hard since the US and China began in 2018 and they continue to take jabs and upper cuts to the head. For example, since August, 3M Company is down 11%,
and Caterpillar, which receives almost 10% of their revenue from China, is down 13% in August.
Industrials are one of the better sectors when interest rates rise because it's a sign of economic growth. But that's not the case any longer. Global manufacturing is slowing down and countries, including the US are cutting rates. And although a rate cut or two should help jump start things a bit, I think the inevitable is upon us, a forthcoming recession.
And so, Industrials are one on of the sectors I'm keeping my eyes on for a short after the XLI formed a triple top (or a reversal pattern) a couple of months ago.
So as soon as we can break this band, I'm shorting the XLI via leap put options.
With a longer term target down at $40.
This post is my personal opinion. I'm not a financial advisor, this isn't financial advise. Do your own research before making investment decisions.