Transportation companies are the engines of the economy, ensuring that producers can get their goods to companies and consumers on demand. But as the economy slows down and corporate earnings decelerate, less goods will be need to be delivered to companies and consumers. But lets just forget the fundamentals and what we see on the news. The charts are telling me the top is in on the Transports. The iShares Dow Jones Transportation, IYT, is exchange-traded fund that is highly correlated to the Dow Jones Transportation Average. The index includes companies within the trains, planes and auto…I mean trucking sector.
Eight months ago, I wrote,
I'm Calling The Top In The Transports
On the monthly chart, we saw negative divergence, price broke the up trendline that was established in 2016 and the candle after the trendline break was rejected by the trendline.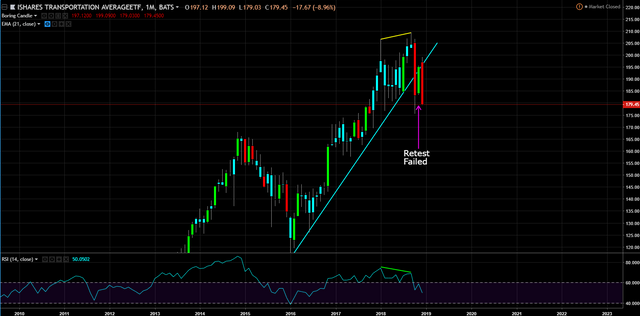 If the transports tracker falls just 0.3%, it would close below the May 31 closing low of 9,738.03. That would be significant for followers of the Dow Theory, which has remained relevant among market watchers for a century, given its strong track record of calling major bull and bear markets.
Another Dow Theory tenet is that the Dow industrials and the Dow transports must confirm each other, meaning "no important bull or bear market signal could take place unless both averages gave the same signal," according to the CMT Association. If the indexes are moving in different directions, it could be an omen that the previous primary trend was about to change.
In the past couple of months price has been making lower highs.
So the chart suggests a break below the major resistance/support line will confirm the top that I'm called eight months ago.
This post is my personal opinion. I'm not a financial advisor, this isn't financial advise. Do your own research before making investment decisions.