Central banks continued to load up on gold in the first half, helping push total bullion demand to a three-year high, according to the World Gold Council.

Nations added 374.1 tons in the first six months as Russia and China kept building reserves and Poland made a massive purchase. The trend is expected to continue, with a recent survey of central banks showing 54% of respondents expect global holdings to climb in the next 12 months.

Central banks around the world have added to reserves as economic growth slows, trade and geopolitical tensions rise, and authorities seek to diversify away from the dollar.
I'm not surprised, saw it coming in Dec. when Gold put in a bottom aka the "Smiley Face."
Metal Analysis Report 12-7-18…Do You See What I See???
YES, YES, the chart is suggesting price is forming a bottom and also broke the daily down trendline last month.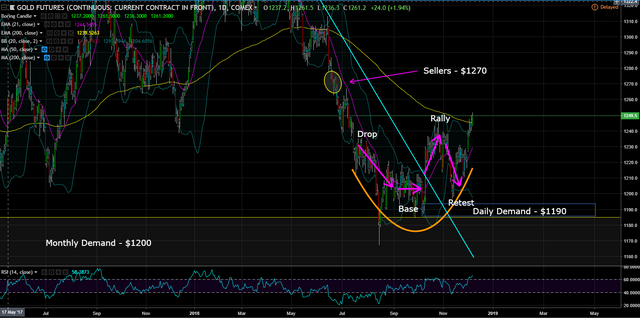 The bottom was only validated in subsequent months by the "talking heads" and the Smart Money on Wall Street.
Others Are Jumping Onto The Gold Bandwagon Too
This past Thursday, CNBC's Jim Cramer said on his show, Mad Money that he was frustrated about the Federal Reserve's policy decisions and recommended that investors buy into the bull market in gold. Craig Johnson, chief market technician at Piper Jaffray thinks Jim is right.
Goldman Sach Just Jumped On The Wagon
And just this past week, Bloomberg reported that Goldman Sach is forecasting gold prices moving higher within the next 12 months.
Metal Analysis Report 6/24/19 – Gold Confirms…It's Time To Buy
Not only has price breached the five year resistance band, but also closed above the big fat round number of $1400. The chart suggests price moves higher to the monthly supply at $1600, with pull backs along the way.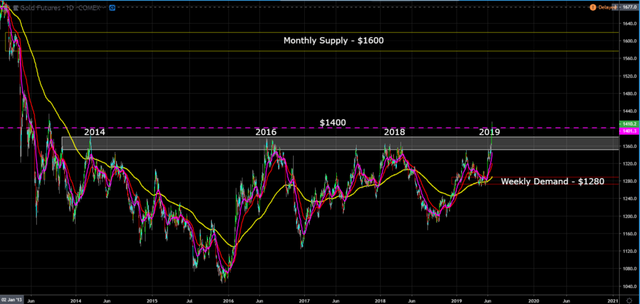 Although Gold has stalled in recent weeks, it's not time to sell, it's just basing before price marches higher.
Yes, the US dollar moving higher had something to do with Gold basing, but the real reason is the buyers continue to eat away at the unfilled sell orders just under the weekly supply at $1475.
So those in Gold for the long haul, don't fret, it's all part of the impulse move, then correction, just know it's the long term buyers that are now causing the impulse moves and the sellers and short term buyers causing the correction…1st target remains $1600.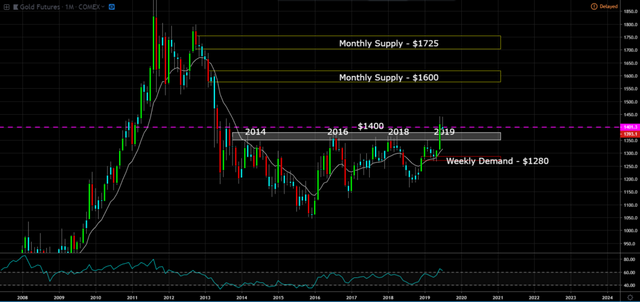 This post is my personal opinion. I'm not a financial advisor, this isn't financial advise. Do your own research before making investment decisions.