Three weeks ago, I talked about Silver not getting any love,
That was until I saw a three year down trend line break and a breach of the psychological $17 level.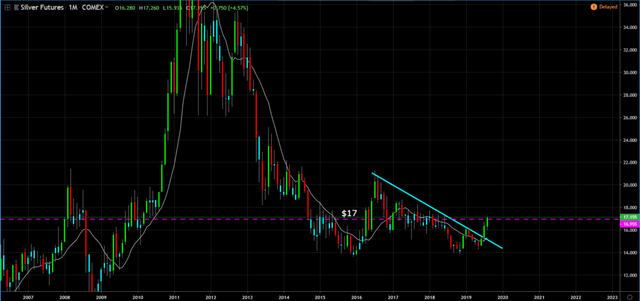 This observation was further supported by the Smart Money buying over 85, 000 of the September call options, $17 strike price in SLV for $26 / options. This trade has already doubled for a profit of $2.2 MM and we haven't even hit Sept yet.
If you feel you missed out, no sweat the party is just getting started and I just made a fresh batch of punch for the punch bowl.  Here's why the party is just getting started and will go on…until the break of dawn.
Silver has surged 13% this month and touched a two-year high on Wednesday.

"It's all a validation of the existing gold trade, which we still think goes higher, but I think it's to a point now where a lot of people probably feel they've missed the gold trade, and therefore you get this kind of poor man's gold," Citigroup Inc. technical strategist Tom Fitzpatrick said by phone.

Exchange-traded funds backed by silver are also lending support. Total known holdings in silver ETFs are at an all-time high in data going back to 2006, according to figures compiled by Bloomberg. The assets are heading for a 14th straight weekly advance weeks, longest streak in more than 11 years.
But don't take my word for it or Tom Fitzpatrick, the chart tells it all.
This post is my personal opinion. I'm not a financial advisor, this isn't financial advise. Do your own research before making investment decisions.