Gold has risen almost 20% year to day, but gold futures have now fallen under the psychologically round number of $1500 yesterday. This marks the lowest gold has been in five weeks. The gold run is over…NOT!!!
Since December, China has added approximately 100 tons of gold to its reserves. Russia's goal reserve is worth over $100 billion. Holdings in BlackRock's iShares Gold Trust, the second-largest bullion-backed ETF, rose to a record last week.
Citibank just put out a report saying gold could hit a record high of $2,000 within the next two years due to US economic growth coming to a halt and continued US interests rate cuts.
So I want to go back to the gold miners because they tend to outperform the price of gold. Lets take the junior gold mining ETF, GDXJ. I think GDXJ has the potential hit $65, even $116 if gold really thunders higher.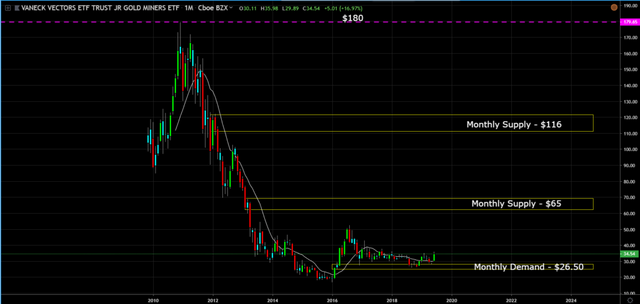 Within GDXJ, the largest single holding is Kinross Gold Corp at 6.34% by weight weighting. Kinross Gold, together with its subsidiaries, engages in the acquisition, exploration, and development of gold properties in the United States, the Russian Federation, Brazil, Chile, Ghana, and Mauritania.
For the second quarter of 2019, KGC reported average realized gold price of $1,307 an ounce. For the same period, the all-in-sustaining-cost (AISC) was $918 an ounce. This translated into an adjusted operating cash flow of $287.7 million for the quarter.

With gold already at $1,530 an ounce, the realized price will significantly increase in the coming quarters with the AISC remaining largely the same. The positive implication is EBITDA margin expansion and growth in operating cash flows.

If gold sustains above $1,500 an ounce (very likely), annualized operating cash flow can be in the region of $1.5 to $1.8 billion. As Kinross Gold Corporation generates positive free cash flows, the stock is likely to trend higher.
If Gold can get to $2000
the chart suggests Kinross Gold should be able to breach both supply zones.
This post is my personal opinion. I'm not a financial advisor, this isn't financial advise. Do your own research before making investment decisions.