Fitbit is trading at all-time new lows after reporting their second quarter earnings earlier this week. Their earnings (really their losses were higher than expected) fell short of expectations and they cut back on their full year revenue guidance.  It appears Fitbit a lot of their hope into the Versa Lite smartwatch.
CFO Ron Kisling quantified how badly the Versa Lite underperformed, saying, "What we're seeing generally across the course of the year in our guidance was Versa Lite over $150 million below what our initial expectations were."

While the Versa Lite didn't sell well, the original Versa exceeded expectations, Park said. The company is reevaluating its pricing and promotion strategy for future hardware launches, and it's accelerating hardware product development.
Fitbit was the pioneer in fitness trackers and was doing well, that until the smartwatches were also able to track fitness activities. But just like Snapchat has to contend with Facebook and just like Blue Apron has to contend with Amazon, Fitbit has to contend with the Apple Watch.
Five months ago, I talked about how the chart was suggestion price was heading lower to the weekly demand at $4.50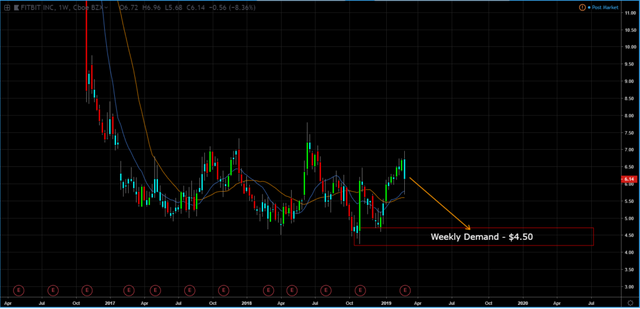 Fitbit Is…Another Blue Apron / Snapchat
Needless to say the stock has now breached the weekly demand zone after earnings.
Unless, Fitbit finds another niche for its products, just like Garmin International moved away from just a GPS screen in your car, the chart suggests Fitbit is headed to $1, with a final stop of getting delisted from Nasdaq.
This post is my personal opinion. I'm not a financial advisor, this isn't financial advise. Do your own research before making investment decisions.