United Rentals, Inc., through its subsidiaries, operates as an equipment rental company that services construction and industrial companies, by renting out backhoes, forklifts, earthmoving equipment, and material handling equipment, scissor lifts, crossing plates, line testing equipment for underground work, electrical distribution equipment, etc.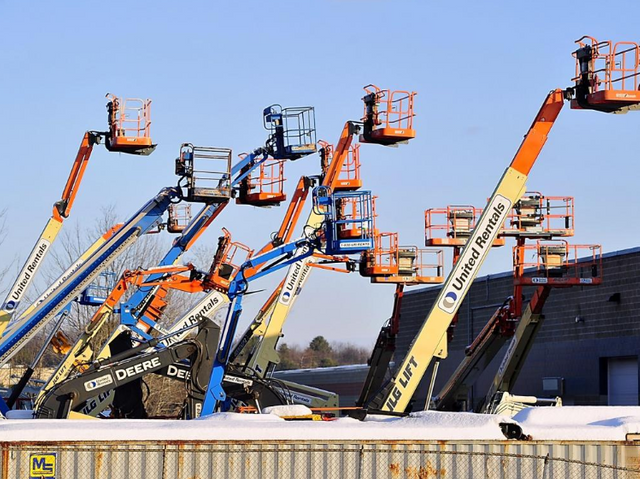 A healthy economy is one of expansion, where companies / government entities are spending capital to grow their business. When the economy is slowing down and/or contracting, companies cut/halt capital projects and buckle down the hatchet.
So if you want a pulse on the economy, just look at the price action of United Rentals' stock. United Rentals is one of several of my barometer stocks.  If United Rentals' stock is trending up, the economy is doing well, but if the United Rentals stock is trending down, the economy is doing not so well. Barometer stocks  bullish market during periods of favorable performance and during periods of unfavorable performance signal a bearish market.  Looking at the monthly chart of United Rentals, what would be your assessment of the economy?
Today Goldman Sachs upgraded United Rentals, do they know something we don't know.
Goldman analyst Jerry Revich also raised his price target for United Rentals to $165 a share, up from $128 previously, which envisions an upside to the equipment rental firm's stock of roughly 29%.

While the economy shows signs of slowing, inventories of used construction equipment are "stabilizing" and manufacturers are poised to start cutting back on production of new equipment, which should provide a boost to United Rentals, which supplies contractors with everything from boom lifts and air compressor to track loaders, the Goldman report noted.

The Goldman report also cited favorable multiples. United Rental's stock price also sports relatively low share price to earnings and share price to sales ratios, making it more of a buying opportunity, according to Zacks Investment Research.
In my opinion, the upgrade only makes sense that Goldman Sachs think the economy will resume its relentless bull market.  Now Fed Powell did cut interests rates for the second time this year.    However, when central banks cut rates, its to stimulate economic growth due to lower financing costs for borrowing and investing purpose.
Nevertheless, if price can breached the daily supply at $140, price has a chance of hitting Goldman Sachs target at $160, but if price breaks the $100 level beforehand, the chart suggests, price will further breakdown to the monthly demand at $62.
This post is my personal opinion. I'm not a financial advisor, this isn't financial advise. Do your own research before making investment decisions.