Snap has been on a tear since Feb. 5th, when they reported their fourth quarter earnings. During the earnings call, Snap posted a narrower-than –expected loss, communicated that the number of daily active users (DAUs) have stabilized and their Collection Ads, which enable a business to showcase four products in a single Snap, drove over twice the return on ad spend versus Q4 2018.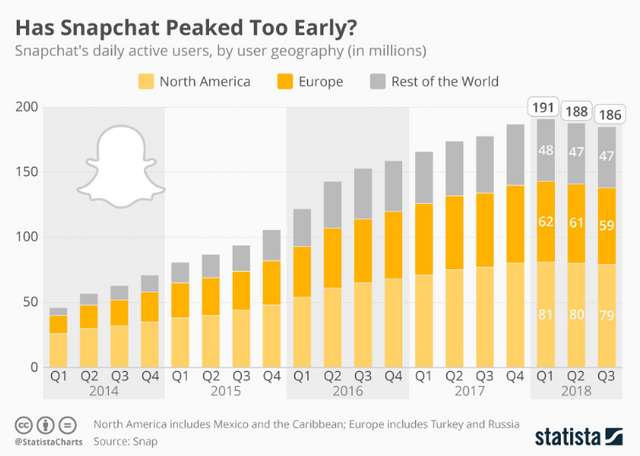 Yesterday, Snap Inc. shares spiked in after-hours trading when they reported adding 13 million DAU in the quarter for a total of 203 million DAUs. Snap is still reported a net loss, but it's less than a year ago and they beat the Wall Street's estimates. Thus, it's all about the DAUs at this stage because they more eyeballs the can keep engaged, the more ad revenue they will generate.
Spiegel said in prepared remarks that the company is "seeing early positive results following the rollout of our new Android application." Snap saw more than 10 percent increase in the retention rate of people who open Snapchat for the first time, and on the majority of Android devices with new users, Snapchatters are sending 7 percent more Snaps compared to the old version, "which we believe is an important leading indicator of their long-term retention," Spiegel added.
Citing a redesign of the Snapchat app, which was controversial among users, as well as the Android rebuild, the CEO said, "Following last year's substantial product evolution we believe that we are now better positioned for long-term success. Today, more than 75 percent of the 13–34-year-old population in the United States is active on Snapcaht, making us larger than services like Facebook and Instagram among this audience, and demonstrating the broad-based appeal of our service."
However, the chart suggests that the run up this year may soon reverse at the daily supply at $17.50.
This post is my personal opinion. I'm not a financial advisor, this isn't financial advise. Do your own research before making investment decisions.