I wrote about UnitedHealth Group earlier this year.  UnitedHealth Group is one of the largest health-insurance providers services roughly 50 million people with revenue of $226.2 billion last year. It also operates physician practices, sells consulting and data services, and administers drug benefits.
One of the major themes going into the 2020 presidential, at least by the Democrats will be the "Medicare for All" proposals. For example, earlier this year, Senator Bernie Sanders of Vermont is calling for government-run health care as a way of covering more people. He's even singled out UnitedHealth saying their greed would soon end.
But the chart suggested to go long UnitedHealth at the weekly demand at $210.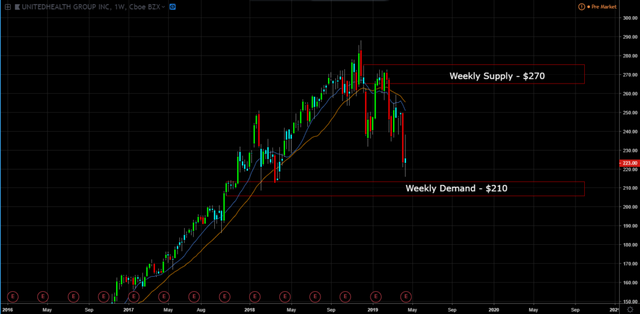 Price did eventually react to the weekly demand at $210, hit the target at weekly supply zone at $270. But because the $270 was a level that contained a stack of unfilled sell orders, that level the chart also suggested to short price gain with the target being at the weekly demand at $210 again.
In mid-Sept, the "Medicare for All" theme went front and center when House Speaker Nancy Pelosi unveiled her bill that would allow the federal government to negotiate the prices of up to 250 brand-name drugs in Medicare that do not have competitors and the negotiated prices would be available to all purchasers, not just Medicare beneficiaries. In addition, the bill would also cap seniors' out-of-pocket prescription drug costs at $2,000 a year. And all though Nancy is trying to impeach Trump, Trump actually supports Nancy's bill. So if Trump gets impeached which he won't and if the Democrats win next year's election, which they won't, UnitedHealth current business model isn't set up for a more regulated environment. And that's why the stock fell 3% today and that's why price is testing the weekly demand at $210 again.
But this time could be a different story. The SPDR Healthcare Sector ETF, XLV still lags behind the S&P 500 ETF, SPY.
and relative to all the other SPY sectors, XLV is dead list.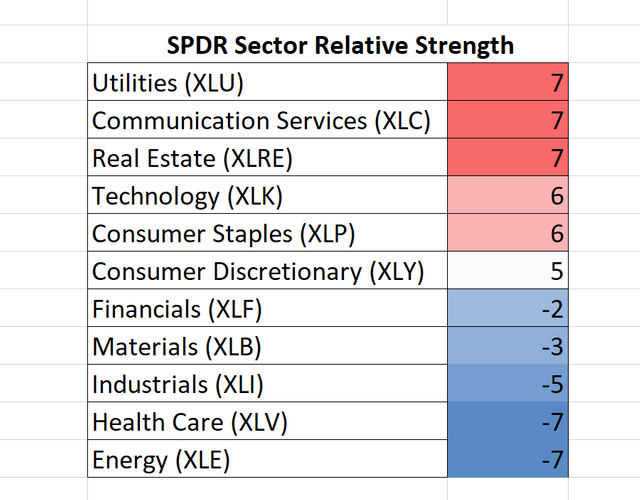 Thus, the chart is suggesting the weekly demand at $210 won't hold again, will be breached the zone in the near future and that price will move down to the weekly demand at $183.
This post is my personal opinion. I'm not a financial advisor, this isn't financial advise. Do your own research before making investment decisions.