Despite the three corrections (-10% declines) and rallies, despite the "V" shape recovery in late 2018, despite Fed Powell committing to do what's necessary to keep the party going, despite the 800+ drops and 400+ point up days on the DOW, if you think about it, the S&P 500 has really moved in almost two years.
However, last week, I talked about despite the S&P 500 making new highs in 2019, the Smart Money has been reducing their long positions.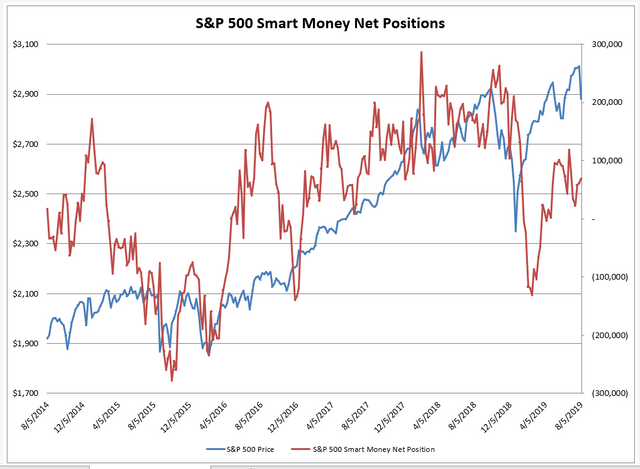 S&P 500 Smart Money Sentiment 8/22/19 – It's Not Time To Short…Yet
This data compiled was further supported today when I came across an article talking about The World's Largest Wealth Manager Just Turned Bearish on Stocks.
UBS Global Wealth Management, which oversees more than $2.48 trillion in invested assets, has gone underweight on equities for the first time since the euro-zone crisis.

"Risks to the global economy and markets have increased, following a renewed escalation in U.S.-China trade tensions," said Haefele, who had so far resisted turning bearish on stocks since the world's two biggest economies began their trade feud last year. U.S. President Donald Trump's decision last Friday to increase tariffs on $250 billion of Chinese goods to 30% from 25% prompted the downgrade.
So from a macro view point, here are the levels that I'm paying attention to if and when the S&P 500 continues to break down.
The 2800 level which happens to be the August lows and a major resistance/support level.
The 2720 level which happens to be the March and June lows.
If the 2720 level is taken out, I anticipate price will retest the December low at 2320.
This post is my personal opinion. I'm not a financial advisor, this isn't financial advise. Do your own research before making investment decisions.