I first wrote about Stitch Fix seven months ago,
Stitch Fix, The Netflix Of Clothing
Just like Netflix disrupted the at home movie streaming market, Stitch Fix is disrupting apparel retail by allow you to choose your own clothes from a selection of clothing. Stitch Fix is your own stylist on a budget. They send you five items at a time based on an interface through which you select your style preferences, budget, and fit. Customers only pay for what they want to keep and return the rest for a service fee of $20 which goes towards the purchase.
Stitch Fix was launched in 2011. The company has seen significant growth since, with 2.7 million customers and more than $1 billion in revenue. The person running Stitch Fix is founder Katrina Lake and is the youngest woman ever to take a company public.
I wrote another post about Stitch Fix,
Stitch Fix Even Trades Like Netflix
Stitch Fix Inc. fell 35% on Tuesday due to a revenue miss and weaker-than-expected active client numbers. The revenue miss was very small, $318.3 million versus a consensus of $318.9 million. And even though the active client numbers grew by 25% year-over-year to about 2.7 million, analyst were looking for 2.82 million active users.
Similar to Netflix who uses technology to get to know their customers, Stitch Fix has put their spin on technology as well with an interactive, mobile and web-based game with clients that we call Style Shuffle.
The chart suggests there is still more downside risk. Price should slow down at the $20 level and will be selling at a steep discount at $16.50.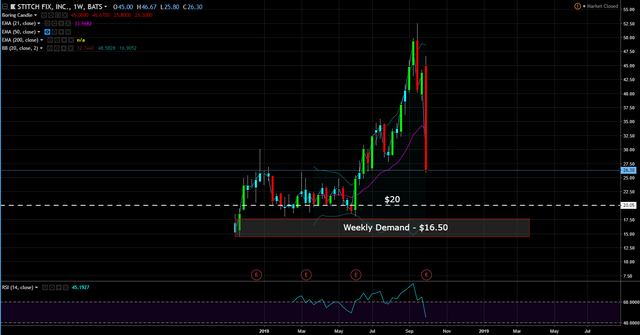 Stitch Fix reported their second quarter earnings last week. Stitch Fix reported net revenue of $370.3 million, up 25% year over year, and the sixth consecutive quarter of at least 20% growth. The company also reported active client count of 3 million to end the quarter, an increase of 453,000, up 18% year over year. Lastly, Stitch Fix also raised full year guidance is now forecasting net revenue in a range of $1.53 billion to $1.56 billion.
Not only did price bottom as the charted suggested in Dec, but the earning results caused the stock to raise 25% before pulling back.
I keep saying Stitch Fix is another Netflix in a lot of ways and will be a player in the future and will make early investors a very handsome return.
This post is my personal opinion. I'm not a financial advisor, this isn't financial advise. Do your own research before making investment decisions.