Sometimes Trump has perfect timing. The DOW rose nearly 300 points yesterday, only to close down nearly 300 points. Speaking of down, trump's twit said it's time to short the Retail Sector.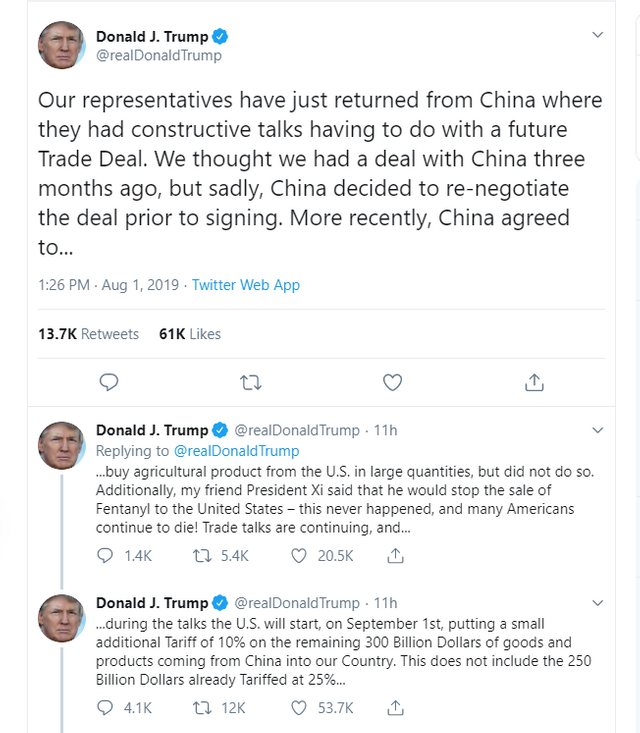 On the news many of the major retailers, from Kohl's to Nordstrom to Macy's fell right after his twit.  When Trump said the U.S. would impose 10% tariffs on $300 billion of Chinese goods beginning Sept. 1st, it automatically signaled an additional tax on the Retail Sector.  That because the proposed list of goods includes consumer and technology goods, like the iPhone, toys, footwear and clothing.
The SPDR® S&P® Retail ETF, XRT seeks to provide exposure the retail segment of the S&P TMI, which comprises the following sub-industries: Apparel Retail, Automotive Retail, Computer & Electronic Retail, Department Stores, Drug Retail, Food Retailers, General Merchandise Stores, Hypermarkets & Super Centers, Internet & Direct Marketing Retail, and Specialty Stores.
I talked about XRT about two months ago,
Is The SPDR S&P Retail ETF, XRT About To Get "X" Out???
XRT was showing a double top – bearish technical reversal pattern, a up trendline break, and a head and shoulder pattern – market trend is in the process of reversing, in this case bearish trend.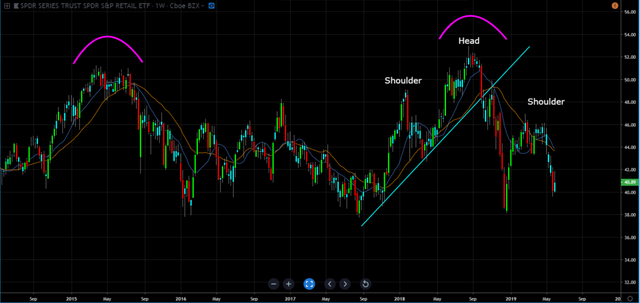 The chart suggest price has further downside. I'm personally looking for price to break the $37.50 level and eventually making its way to the weekly demand at $33.
This post is my personal opinion. I'm not a financial advisor, this isn't financial advise. Do your own research before making investment decisions.