Gold prices have recently stalled and finally broke down big time today.  The financial news are reporting that off again, on again trade talk between the US and China are set to resume next month.  In addition, this morning ADP said that 195,000 jobs were created in August, beating consensus for job growth by about 50,000.  Both headlines put tremendous pressure on Gold prices as gold dropped more than $30 today.
But I could of told you this beforehand. My last post on Gold was a week ago,
It's Not Too Late…To Become A Gold Bug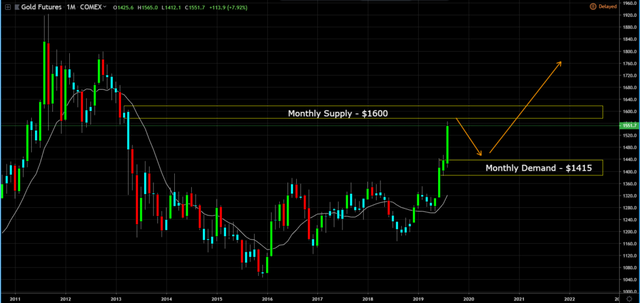 Markets, include Gold ebb and flow, meaning the impulse and correct. When Markets trend, they create impulse and corrective waves.  An impulsive wave is a sustained move in one direction, while a corrective wave is a pullback in the opposite direction of the impulse wave.  Trend traders love impulse waves because they provide the best chances of making large profit.  Corrective waves are used to enter into a trend trade, in an attempt to capture the next bigger impulse wave. 
When you combine impulse and corrective waves with supply and demand, it makes one hell of a trading edge. So why is gold pulling back, it's not because of the news? Take a quick look at the monthly chart above, now lets go down to the daily chart.
This daily supply zone at $1560 was created back in April. The daily supply zone was backed up by the monthly supply zone. April 13th, the sellers made their presence know, but not all their orders got filled.
So when price returned to the daily supply zone in recent days, the sellers took the opportunity to fill their remaining unfilled sell orders.
So where is price headed next, to be honest, I don't know. But what I can tell you is the sand box has been built and the buyers and the sellers are about to slang sand at one another.
If I had to place a bet for $1, I would bet that the sellers win the sand box fight. Quite simply, it's all about impulse and corrective waves…just look at the monthly chart.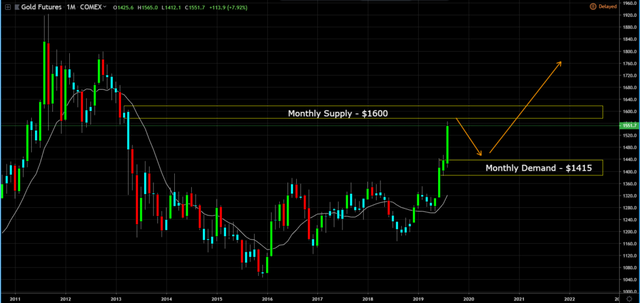 This post is my personal opinion. I'm not a financial advisor, this isn't financial advise. Do your own research before making investment decisions.