Ulta Beauty, Inc.operates as a beauty retailer in the United States. The company's stores offercosmetics, fragrances, haircare and skincare products, bath and body products,and salon styling tools; salon services, including hair, skin, and browservices; and others, including nail products and accessories. It providesprivate label products, such as the Ulta Beauty Collection branded cosmetics,skincare, and bath products, as well as Ulta Beauty branded products Clinique, Revlonand Maybelline. 
Ultra Beauty made noise earlier this year when billionaire, Kylie Jenner, announced that she was partnering with Ultra within their stores.  Previously available only online, Kylie Jenner confirmed via Twitter on 8/30.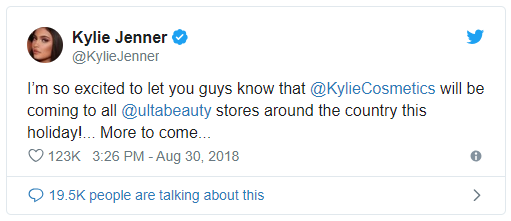 The bet on Kylie paid off, when shares soared 8% after reporting fourth-quarter financial results several months ago. Ulta Beauty said that revenue was higher by nearly 10% from the year-ago period despite having one less week. Ulta's strong earnings report was in part driven by Kylie Jenner's exclusive cosmetics line and her 100+ million follows on Instagram.
But a funny thing happened this past week, not really funny, but a surprise. Ulta Beauty Inc. fell the most in one day since 2007 after they reported quarterly earnings that missed expectations. They also slashed their full year profit and net sales targets. What I'm about to show you is a weekly chart, but the move was from the 27% plunge the day after reporting earnings. Another way of putting this, it was $100 drop in one day.
Ulta Beauty (ULTA) is banking on the celebrity power of Kim Kardashian to get investors excited again after a lackluster second quarter and brutal earnings warning that sent the stock spiraling lower.

Ulta CEO Mary Dillon confirmed to analysts on a conference call Thursday evening that KKW Beauty by Kim Kardashian West will launch this quarter. Dillon says the product line will feature 57 overall items, including the "most iconic" ones for Kardashian West including a contour and highlight kit, lipstick and various eyeshadow palettes. Two new exclusive cosmetic kits under the brand are expected for the holidays.

"Kim is one of the strongest forces in pop culture and we are very excited to extend our partnership with her," Dillon said.
I anticipate Ultra Beauty bouncing from these levels, but it's will have nothing to do with Kim. You see, Estée Lauder and L'Oréal had challenging quarters as well, pointing to signs that the comestic business is facing some headwinds. Thus, the bounce in price will be due to this major resistance/support line, but like KKW Beauty, the bounce will be temporary due to this gorgeous (sorry Kim) "M" reversal pattern on the weekly chart.
This post is my personal opinion. I'm not a financial advisor, this isn't financial advise. Do your own research before making investment decisions.