This is my third and might be my last post on Box, not sure if they are worth discussing any more. So let me catch you up on things.
I first spoke about Box five months ago,
In 2005, Box was founded and ten short years later, the company went public and now serves 70% of the Fortune 500 companies. Box began as an enterprise-focused cloud storage company, but it's been increasingly building out a platform on top of its cloud-storage product. I was never high on the company because one of their biggest competitors is Microsoft Corp's OneDrive and SharePoint, who based on their size, sold the same commodity type storage for cheaper.
Needless to say, earlier this year when they announced fourth quarter earnings, the results were below expectation.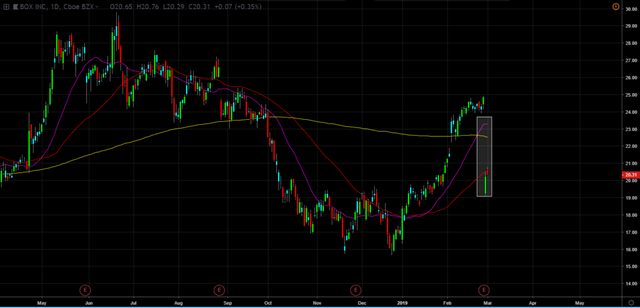 I personally saw further declines and the chart suggested price would head down to the monthly demand at $14.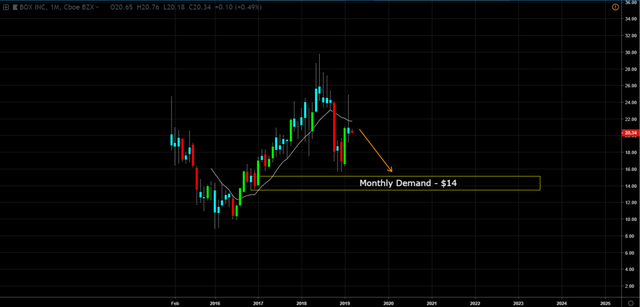 Lets fast forward to June,
Box announced their first quarter earnings report. Box's revenue in the quarter increased 16% from a year earlier, but the lowered their forecast for the rest of the year leading to a sell off in the stock. Needless to say price hit and bounced off the the monthly demand zone at $14. As the zone indicated, there were unfilled buy orders which cause the bounce in price.
So the question at the time became there more unfilled orders at the demand zone or did they get all used up after the bounce in price?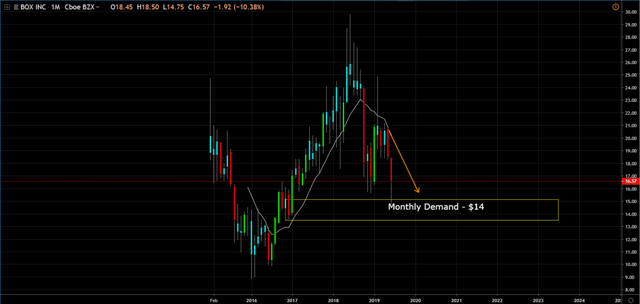 Box isn't scheduled to announce earnings until late Aug, but their direct competitor Dropbox Inc announce their second quarter earnings this past Thursday. Dropbox reported a slight increase in the number of users who are paying for its file sharing services but they also reported a wider second-quarter net loss. Again, since Box is in the same line of business as Dropbox, Box sold off as well.
So now we can answer the question of were there more unfilled buy orders at the demand zone or did they get all used up after the bounce in price in June? I'm sure there were more unfilled buy orders below the pivot highlight by the purple circle, but the sellers absorbed them all and pushed prices higher.
I expect price to bounce from current levels, but then head lower, eventually to the weekly demand at $10.50.
This post is my personal opinion. I'm not a financial advisor. Do your own research before making investment decisions. By reading this post, you acknowledge and accept full responsibility of any gains or losses.