Roku (ROKU), which was founded in 2002 is taking advantage of the cord cutting trend. Roku offers an easy way to access all the top streaming services, but they launched their own channel about one year ago, connecting customers to hundreds of movies and some TV shows they can stream for free. Roku has since brought the Roku Channel to the web and mobile devices, where it can also be watched by consumers who don't have a Roku device yet.
Roku remains one of the fastest growing leaders in video streaming technology. Roku has over 30 million active users, about 10% of U.S. TV viewers aged 18 to 34 are now on Roku and these users are consuming more than 9 billion hours on streaming content.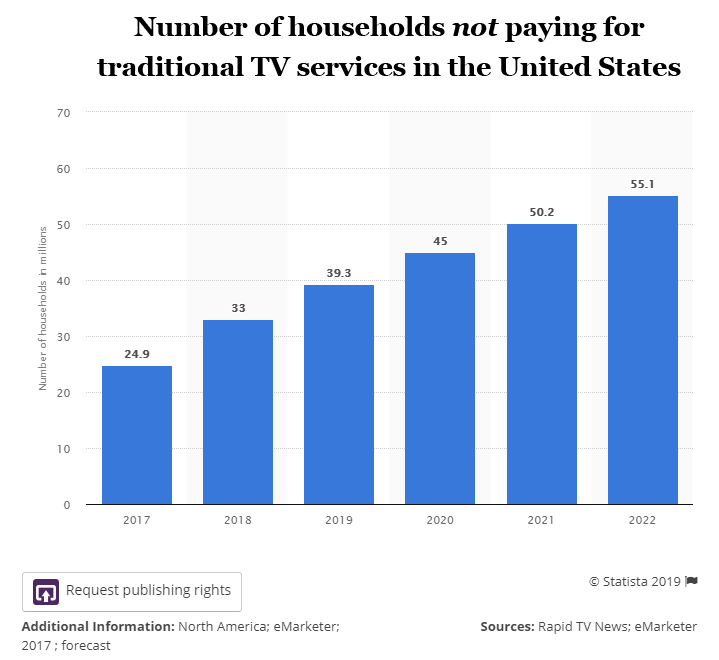 But ROKU has become a leader in smart-TV software, allowing the company to take advantage of this trend as well. ROKU will benefit even more from the shift to smart-TVs, especially as services like NFLX, Amazon Prime (AMZN), and Disney+ (DIS) battle to get their streaming services in front of as many eyes as possible. And investors have taken notice. At the start of 2019 the stock was $29 and rose to as high as $177 in early Sept.
But wait, why is Roku down almost 40% since early Sept? Well, in recent weeks, Apple announced it would be giving away a free year of its new Apple TV+ service to customers who purchase new Apple devices,  Comcast Corp. said it will give out its Xfinity Flex streaming box for free to its Internet-only subscribers and Facebook Inc. launched its new Portal TV device. So is Roku's short reign over,
Zacks writes that despite the new competition, Roku might be able to differentiate itself from its rivals through advertising revenue and leaning on the variety of streaming companies it has in its stable.

"Roku makes most of its money when its users start watching," according to Zacks. "The company's greatest source of revenue since 2018 has been advertising. The streaming firm does this through its partners' ad-supported videos, on its home screen and even on the buttons of its remote. This puts Roku in prime position to rake in revenue when companies are increasingly looking to advertise on its platform instead of on cable TV."
If you agree, with Zacks.com, price is approaching the monthly demand at $95. The chart suggests to go long once price penetrates the monthly demand.
If you want to lower your risks, the better level to go long at is the weekly demand at $82.
This post is my personal opinion. I'm not a financial advisor, this isn't financial advise. Do your own research before making investment decisions.