Jim Chanos is an American investment manager and currently serves as president and founder of Kynikos Associates, a New York City registered investment advisor who is focused on short selling. While at the annual Delivering Alpha Conference this past week in New York City which brings together some of the world's most influential money managers and political figures, Jim made a compelling reason to sort DaVita.
Jim Chanos Says To Short DaVita
GrubHub (NYSE:GRUB) is one of the world's leading online and mobile food ordering company, currently partnering with over 80,000 restaurants in 1,600 U.S. cities.  Grubhub was a first to market mover and shares of Grubhub returned 5X from 2016 to 2018 and in 2018 even went as high as $140 and controlled 34% of the U.S. food delivery market at the time.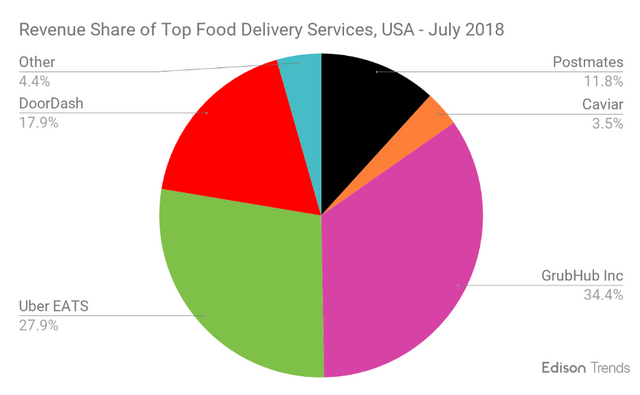 But then, many of Grubhub's critical metrics like initial diner spend and peak diner spend are all decrease because customers are warming up to food ordering delivery and are using multiple companies now.  And then the competition from the likes of Uber, DoorDash, Postmates, Square and Amazon started gaining ground. still controls 34%% of the U.S. food delivery market.  In particular DoorDash has come up the rear and doubled its market share over last year.  And this turn of event has caused Grubhub to lose its #1 spot.
One way Grubhub can compete is lower their fees and market their services, which leads to lower margins, which but this is one of the reasons Jim is also short Grubhub.
"Right now, GrubHub is making almost no money per order — it's something like 15 cents," Chanos said. "There's just no margin in this business."

"We believe that this pressure is occurring at both ends of the spectrum for the delivery companies," Chanos said. "Not only are we seeing pressure on the labor side with the California law, we believe that the labor arbitrage — calling these guys contractors — works in insidious ways.

Chanos said that the company can't afford to be as aggressive as Uber, which has its own food delivery service Uber Eats, because it doesn't have the "financial wherewithal." Competing with Uber, Chanos said, is like being "locked in a cage with a psychopath with an ax."

And while there's competition, Chanos said growth in the restaurant business itself has been stagnant.

"The restaurant business is a tough business," he said. "Even if this all works, and all four of these delivery companies grow to 20 or 25% of all meals, you are growing into a no growth business."
So do the charts agree with Jim, well price did eventually break the monthly demand at $68.
And price did react to the weekly supply at $68, so the chart agrees with Jim. The chart suggest price is heading down to the monthly demand at $42.
This post is my personal opinion. I'm not a financial advisor, this isn't financial advise. Do your own research before making investment decisions.