Three months ago I wrote a post about the Ultra Beauty,
Ultra Beauty, Looking Definitely Ugly
Ulta Beauty (NASDAQ:ULTA) took a hit Friday, falling as much as 10%+ after announcing their quarterlyearnings.
But the big buzz as of late was billionaire, Kylie Jenner, announced that she was partnering with Ultra within their stores. Previously available only online, Kylie Jenner confirmed via Twitter on 8/30.
On the weekly chart, there is weekly demand at $228. Although there is still downside risk, the profit potential isn't enough. Thus, there is no trade set-up at this time.
Shares of Ultra Beauty soared 8% after reporting fourth-quarter financial results on Friday. Ulta said that revenue was higher by nearly 10% from the year-ago period despite having one less week.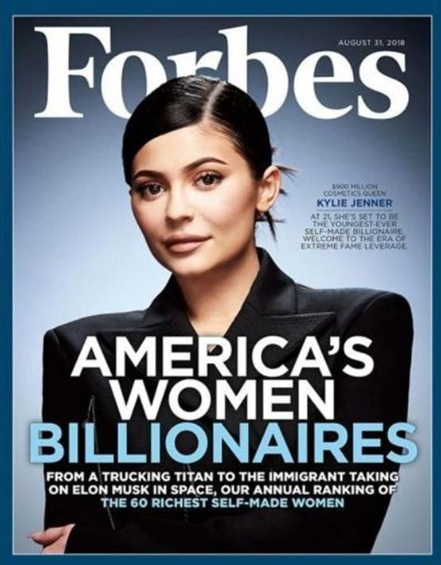 Ulta's strong earnings report was in part driven by Kylie Jenner's exclusive cosmetics line. Whether she is a self-made billionaire or not, her bank account doesn't care. With 114 million follows on Instagram, she has the ability to influence and move the needle. As a result, I failed to recognize this when I wrote about Ultra three months ago because the downside risk I talked about was setting up for some great upside.
Three Months Ago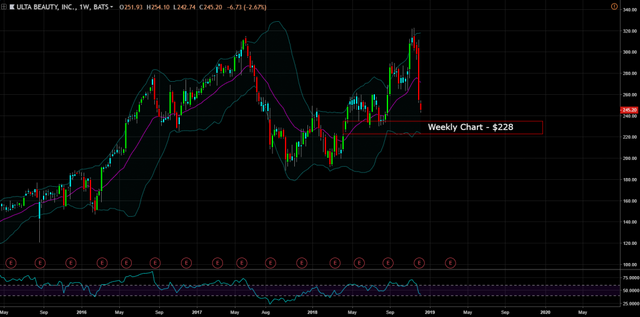 Today
Bulls will look at Ulta's 2019 comp guidance range of 6-7 percent and expect fourth-quarter trends will continue, Goldsmith said in a research report. Bulls will also expect recent margin improvements to continue throughout the year from continued cost optimization improvements. On the other hand, bears will argue momentum is likely to slow down and margin pressure in the first half of 2019 will justify a compression in the stock's multiple.
With Kylie backing Ultra the Bulls have a case, but with the monthly chart showing negative divergence, the Bears have a case…who wins out, stay tuned.
This post is my personal opinion. I'm not a financial advisor, this isn't financial advise. Do your own research before making investment decisions.