United Parcel Service reported their first quarter earnings yesterday. UPS reported earnings and revenue that were below expectations and blamed the lackluster results on the weather.
UPS reported earnings of $1.39 per share vs. expectations of $1.42 per share. Revenues for the quarter were $17,160 million vs expectations of $17,793.7 million.
UPS also said it expects second-quarter earnings per share to be flat compared to the same quarter last year, but did reaffirm its full-year earnings guidance of $7.45 to $7.75 per share.
"UPS remains a 'show-me' story," said Benjamin Hartford, an analyst at Robert W. Baird, in a note. The company hasn't yet demonstrated "tangible progress" in its $20 billion campaign to bolster efficiency and cut costs, Hartford said.

UPS needs to show results from its three-year plan to increase capacity, reduce costs through automation and bring on new aircraft to handle a surge from online retailing. Investors were skeptical of the hefty spending plan from the start, and shares have yet to recover to the level before the strategy was announced last year.
Do you think UPS will pick it up on the 2nd half of the year and perform to perfection during the holiday season in December? Time will tell, in the meantime, lets go to the charts to see where price is headed.
Monthly Chart (Curve Timeframe) – monthly supply is at $243 and monthly demand is at $176.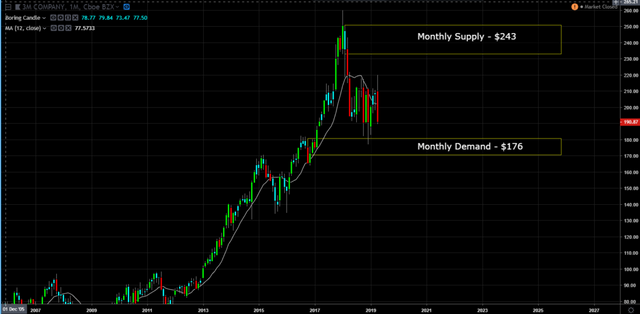 Weekly Chart (Trend Timeframe) – the trend is sideways.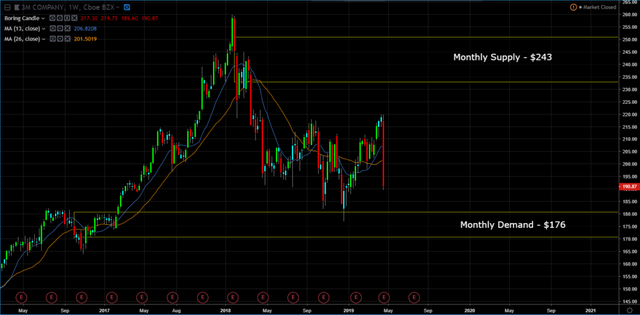 Daily Chart (Entry) – no set-up at the moment, the chart suggest to go short and long at the extremes…at the daily zones.
This post is my personal opinion. I'm not a financial advisor, this isn't financial advise. Do your own research before making investment decisions.