Two weeks ago I wrote a post about the auto loan industry imploding,
Serious auto-loan delinquencies – loans that are 90 days or more past due – surged to 4.47% of total auto loan balances in Q4 2018, according to New York Fed data this morning. This put the auto-loan delinquency rate at the highest level since Q1 2012 and just 0.6 percentage points below the peak during the Great Recession in Q1 2011.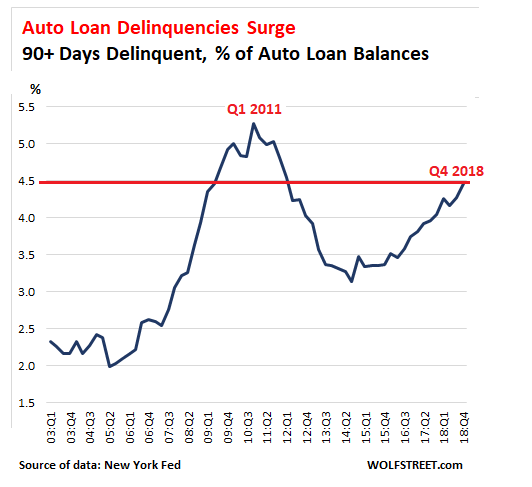 At the end of 2018, there were over 7 million Americans with auto loans that were 90+ days past due, 1 million more than at the end of 2010, at the peak of the overall delinquency rates, according to a separate report by the New York Fed.
Credit Acceptance Corporation provides financing programs, and related products and services to independent and franchised automobile dealers in the United States. The company advances money to dealers in exchange for the right to service the underlying consumer loans; and buys the consumer loans from the dealers and keeps various amounts collected from the consumers.
Don Foss is known as the pioneer of the subprime auto loan market. Back in the days, General Motors and Ford would only lend money to folks with good credit. So Don started selling cars on credit to people with shaky finances. Don was charging customers crazy high interest rates and could because nobody else was issuing loans to this particular population with bad credit. So in 1972, Foss founded Credit Acceptance (CACC) to handle financing and debt collection for his used car business.
Today, CACC is a major player in the U.S. subprime auto loan market and its market cap exceeds $8 billion. Americans love their SUVs, so people are spending a lot more on cars with the average dollar amount of a Credit Acceptance loan up 34% since 2015 and the average term is longer by seven months equating to more interest income. However, on the flip side CACC has lot of subprime loans out where the car value is worth a lot less than the loan value and the longer the loan term, the less likely customers will meet their loan terms in full.
So as the economy slows, companies hire less and layoff more, customers' confidence decline, the more sub-prime auto loans default. And when this chain reactions fully materializes, CACC's stock will crash. How much will it crash, lets go to the charts to find out?
This is a monthly chart of CACC and quite honestly, I'm not sure what chart looks better, CACC or Netflix…this is just incredible.
The weekly chart suggest to wait for price to breached the weekly demand at $370 before considering a short.
This post is my personal opinion. I'm not a financial advisor, this isn't financial advise. Do your own research before making investment decisions.